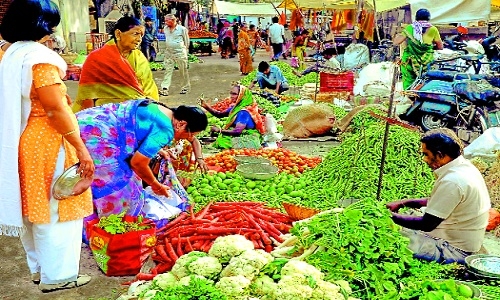 Business Bureau
It seems that the new year has started on a favourable note as low vegetable prices are giving smiles on the faces of consumers. Being the winter harvest season, vegetables are supplied in huge quantities to the Mahatma Phule wholesale vegetable market. "On account of ample rains there is bumper crop resulting in vegetable prices falling at their lowest levels", said Ram Mahajan, Secretary of Mahatma Phule Sabji Bazaar Association and one of the leading vegetable wholesalers while speaking to The Hitavada.
Mahajan said the good supply of vegetables from the local farmers is impacting the prices. "It is quite natural to see vegetable prices falling to such levels during winter season. The vegetable prices will remain on the lower side during the entire month of January," he said.
In February the supplies will slow down and by the end of March it will get exhausted.
Thereafter, vegetable prices would move upwards. During the summer period, there is restricted supplies from local farmers and vegetables would come from far off places in the city markets.
In the wholesale market the vegetables are being quoted: Beans at Rs 35 per kg to Rs 40 per kg, Cauliflower at Rs 5 kg, Cabbage at Rs 5 kg, Lady Finger at Rs 30 kg, Tomato at Rs 3 to Rs 5 per kg, Small Brinjal at Rs 8 to Rs 10 per kg, Large Brinjal at Rs 12 to Rs 15 per kg, Shimla Mirch at Rs 40 per kg, Spinach at Rs 8 per kg, Methi at Rs 20 per kg, Cucumber at Rs 20 per kg, Coriander at Rs 10 to Rs 20 per kg and Green Chilly at Rs 25 per kg, he said.