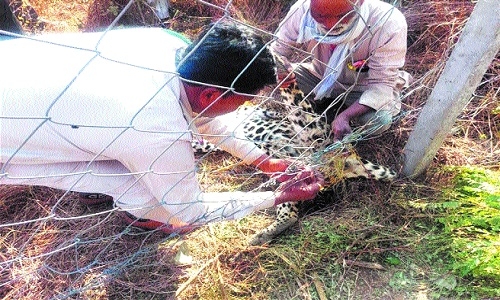 Staff Reporter
Dog squad from Pench National Park reached Narsinghpur Barman forest circle on Sunday morning to search in suspected female leopard poaching case. The leopard was found dead in Mehgawa beat of the forest circle. When sniffer dogs reached the spot they ran for two kilometres and took halt near a hut. The team recovered clutch wire from the hut. When team enquired about the people living in hut, locals said that the owner is absconded for a few days.
Talking to 'The Hitavada' forest officials said that a four year old female leopard carcass was recovered from the plantation net on December 31. When veterinary doctors checked the carcass, they suspect poaching.
Forest Circle Officer P D Grebiyal informed that cloth pieces were also recovered from the spot. He said when sniffer dogs were given the cloth to smell it, they ran for two kilometre and then took halt near a hut. He said however all body parts including teeth, paws, nails, hair, eye, were found intact. Beat chowkidar has also recorded his statement. As there is dense population of leopard around the area, net fencing has been made by forest department. The leopard was found in the net. "Matter is being scrutinised. Dog squad team has searched clutch wire and cloth pieces. Soon we will reach the suspect," added circle officer PD Grebiyal.