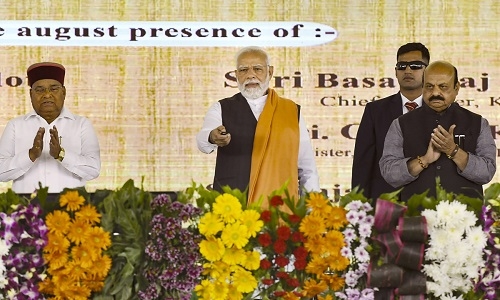 YADGIRI,
PRIME Minister Narendra Modi on Wednesday asserted that the BJP Government's priority is only development, as he targeted the other party Government's which ruled Karnataka, and their "vote bank" politics for the backwardness of certain regions of the State.
Referring to the positive aspect of having a BJP Government at both State and Centre, he said, double engine Government means double benefit, double welfare and double fast paced development, and Karnataka is the best example for this.
Karnataka is going to Assembly polls by May. "It has been 75 years of India's development and now the country is marching ahead with the focus on the next 25 years. These 25 years are going to be the Amrit Kaal for every citizen and state, during which we have to build a developed India," Modi noted.