Participants raise slogans Jai Jawan-Jai Kisan and Jai Vigyan in 'Run for Science' Marathon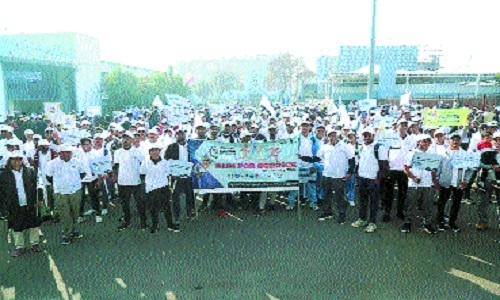 Staff Reporter
An atmosphere of zeal, passion and enthusiasm for the promotion of science was witnessed at TT Nagar Stadium on Thursday morning. The occasion was the Run for Science Marathon. The purpose of the marathon was to connect people with the 8th India International Science Festival. More than 1,500 students from various schools and colleges of the city participated. Principal Secretary, Science and Technology, Nikunj Srivastava flagged off this marathon of about three and a half kilometres from TT Nagar Stadium. The marathon passed through Mata Mandir, TT Nagar Stadium and ended at NRC Bhawan located in MANIT Campus. During this, tremendous enthusiasm was seen among the participants. On this occasion, National Organisation Secretary of Vigyan Bharti Pravin Ramdas, social worker Hemant Muktibodh, Executive Director of INSA Arvind Ranade, Executive Director, RCB Faridabad, Sudhanshu Vrati, Director General of MPCST, Dr Anil Kothari and Acting Director of MANIT G Dixit were prominently present.
Promoted science by raising slogans: The enthusiasm of the participants who came to take part in the marathon was worth seeing. Despite bitterly cold wind, people of all ages came to participate in the marathon. During this, the participants were holding banners and flags related to the progress of science, its benefits in life and the promotion of science. Slogan of science is a beautiful gift to humanity, we should not distort it was written on banner. The Science of Today is- the Technology of Tomorrow. Talking about development with science, we do something, you do something. Slogans like explaining science to the people, removing superstition and evil practices... were written. Along with this, the participants also raised slogans of Jai Jawan-Jai Kisan, Jai Vigyan.
Life made easier with science: Arvind Ranade, Executive Director, INSA, said that science and technology have made our lives easier. It is necessary that we use science and technology in the right direction. The participation of the public is very important in spreading the message of the Science Festival from Bhopal in Madhya Pradesh to every corner of the country. He said that only through successful events like Science Festival, India would be able to establish itself as a knowledge centre in the world. National Organisation Secretary of Vigyan Bharti, Praveen Ramdas, present in the programme, said that the eagerness of hundreds of participants involved in the Run for Science Marathon proves that the science festival in Madhya Pradesh will touch the pinnacle of historic success. More and more students should be benefitted: Principal Secretary Nikunj Srivastava said that it is a matter of pleasure that the eighth Science Festival will be organised in Madhya Pradesh and Bhopal. He said that it is hoped that this event will be successful in taking the future of children to new heights in the direction of science. There is a positive atmosphere in the city regarding this event. More and more school and college students should join this. Director General MPCST Dr Anil Kothari said that all the responsibilities related to India International Science Festival have been successfully discharged.