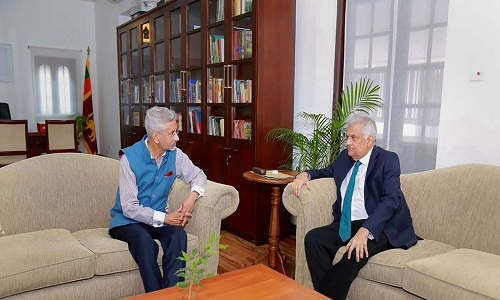 COLOMBO,
EXTERNAL Affairs Minister S Jaishankar announced on Friday that India has given the required assurances to debt-ridden Sri Lanka for the much-needed IMF bailout package, becoming the first major lender to publicly back the island nation's efforts to recover from its worst-ever economic crisis.
Jaishankar, who is here on a two-day visit, called on President Ranil Wickremesinghe on Friday morning and also held talks with Foreign Minister Ali Sabry. "My primary purpose to visit Colombo is to express India's solidarity with Sri Lanka during these difficult moments," Jaishankar said in a press statement along with Sabry.
"We've had a very good discussion that follows up on my meetings with my counterpart and other Sri Lankan Ministers on Thursday evening," he said.
India has extended about USD 4 billion in terms of credits and rollovers to help Sri Lanka get through its worst economic crisis since package. India felt strongly that Sri Lanka's creditors must take proactive steps to facilitate its recovery, he told the media in the presence of President Wickremesinghe. "India decided not to wait for others, but to do what we believe is right," he added. "We extended financing assurances to the IMF to clear the way for Sri Lanka to move forward. Our expectation is that this will not only strengthen Sri Lanka's position but ensure that all bilateral creditors are dealt with equally," he added. The IMF bailout has been put on a hold as Sri Lanka pursues talks with creditors to meet the global lender's conditions for it. "Sri Lanka's pathway is one of a strong economic recovery propelled by greater investments. Here too. I have a clear message that I will be sharing with the business community," Jaishankar said.
"India will encourage greater investments in the Sri Lankan economy, especially in the core areas like energy, tourism and infrastructure. We count on the Government of Sri Lanka to provide a more business-friendly environment to create a powerful pull factor. I am confident that the gravity of the situation is realised by policymakers here," Jaishankar said. India has always supported both the political and economic stability of Sri Lanka," Jaishankar said. He said President Wickremesinghe briefed him on the question of political devolution.
"I shared with him our considered view that the full implementation of the 13th Amendment and early conduct of provincial elections are critical".
"Durable efforts towards reconciliation are in the interests of all sections in Sri Lanka. I also spoke of the need to pay special attention to the requirements of the Indian-origin Tamil community," he said.
India has been pressing Sri Lanka to implement the 13th Amendment to the Constitution which was brought in after the Indo-Sri Lankan agreement of 1987. The 13A provides for the devolution of power to the Tamil community.
Jaishankar said energy security is today one of Sri Lanka's most serious challenges. "A search for solutions must necessarily encompass the larger region. Only then will Sri Lanka get the full benefit of scale. This country has enormous renewable energy potential that can become a sustainable source of revenue. It has the capability as well for Trincomalee to emerge as an energy hub," Jaishankar said.
In its support for Sri Lanka, India is prepared to be a "reliable partner" on such initiatives, he added.
"We have today agreed in-principle on a renewable energy framework that would take this cooperation forward," he said. Calling tourism the lifeblood of the Sri Lankan economy, he said "Indian tourists are expressing their positive sentiments for Sri Lanka in a very, very practical manner by coming here."