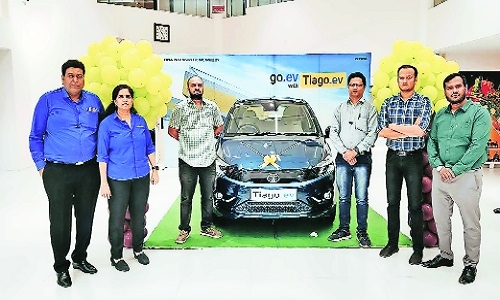 Business Bureau
In a glittering ceremonies held at their respective showrooms, much awaited Tata Tiago.ev car was launched at Jaika Motors Pvt Ltd and Aditya Tata Cars. At Jaika Motors, unveiling of the car was done by Mantosh Saha, Executive Purchase, Oam Industries Pvt Ltd. (Haldirams) in presence of Kumar Kale, Kartik Kale, Directors of Jaika Motors, Deepa Khdekar, General Manager, Antariksh Varma, Sales Manager, Jaika Motors and Ankit Mrinal, Territory Sales Manager, Tata Motors, and Shakir Sheikh of Tata Motors.
Similarly, at the Aditya Tata Cars showroom, the unveiling was done by Sanjay Kadam, Assistant General Manager, Bank of India; Sandeepan Bhattacharjee, Deputy General Manager, TML; Sonal Kumar, Senior Manager, TML; Snehal Wankhede, Senior Manager (Marketing), Bank of India; in presence of Dealer Principal Dr Prakash Jain and Aditya Tata Cars Director Adv. Udit Chakraborty.
Tiago.ev is based on the Ziptron technology – Tata Motors' in-house developed globally competitive high voltage architecture designed for unique Indian driving and weather conditions. True to Ziptrons' 5 key pillars, the Tiago.ev stands strong on performance, technology, reliability, charging and comfort. The Ziptron EV architecture is driven and proven over 500 million kms across diverse and challenging Indian terrains making it apt for an exhilarating EV experience. Customers can book Tiago.ev at attractive finance schemes with lowest rate of interest. They may also schedule test drive by calling any of the showrooms:- Jaika Motors (9373904501) or Aditya Tata Cars, Dhantoli (M. 8447179296).