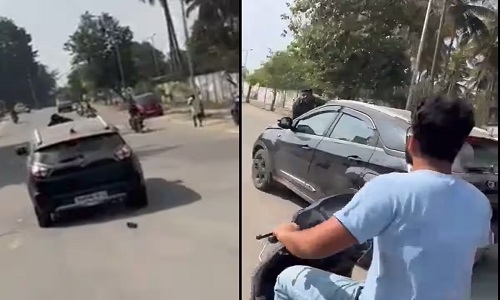 BENGALURU,
A MAN involved in an incident of road rage was dragged by a car driven by a woman with him clinging on to the bonnet of the vehicle for a distance of one km in the city on Friday, police said. CCTV footage of the incident went viral on social media showing Darshan struggling to stay put on the bonnet of the car allegedly driven by Priyanka. According to the police, Darshan's car and Priyanka's vehicle collided on Jnanabharathi Main Road this morning.
As Priyanka's car reportedly crashed into his, Darshan got out of his vehicle, and tried to talk to her and the other occupants. This made Priyanka angry and she allegedly accelerated. He quickly jumped and climbed onto the bonnet of her car. She continued to speed with Darshan on the bonnet.The woman, her husband Pramod and one more person have been booked on charges of attempt to murder and conspiracy.
Pramod lodged a counter-complaint against Darshan and his three friends accusing them of beating him up and molesting his wife, the police said adding that five people were arrested in this connection.
In a similar incident three days ago, Sahil dragged 71-year old Muthappa Shivayogi Thontapur for ramming his bike into the former's car. Then, Sahil tried to flee and Thontapur in a bid to stop him from escaping held on to his scooter. Yet, Sahil dragged him for a kilometre thinking that he would leave the vehicle. Passersby intercepted Sahil and handed him over to the police.