'In Search of The Lost Prime Minister' showcases life saga of Netaji and his mysterious death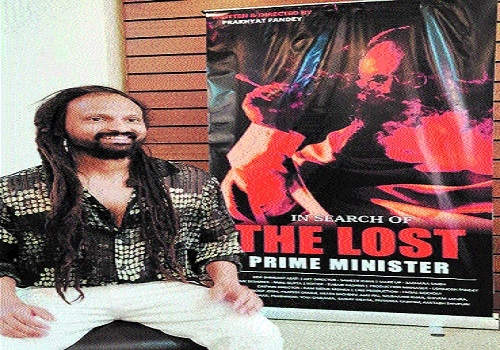 Staff Reporter
What had happened to the freedom fighter Netaji Subhash Chandra Bose? How did he die? Why is his death a mystery? These questions have been revolving around us for ages. A web series named 'In Search of The Lost Prime Minister' which is written and directed by Prakhyat Pandey is going to throw light on the life of Netaji and his true-life events and post-death vital parts.
Prakhyat Pandey promoted the film in the State capital. While addressing the press conference, the director said "This web series is one of my important projects as it includes my favourite freedom fighter of ancient Indian times- Subhash Chandra Bose. The story revolves around the death mystery of Subhash Chandra Bose and his life happenings including pre and post-death.
Whether Netaji had really died in a plane crash in 1945? Or it was all a conspiracy. The audiences will come to know about Netaji and how his death turned into a mystery." In Search of The Lost Prime Minister' is a periodic drama that showcases the 1940s and 70s era. This film has exclusively vital scenes with no repetition of the location in any scene. This series comprises of six episodes each of twenty minutes. "This series will make people aware of the fact that India got its independence with the contributions made by freedom fighters including Netaji Subhash Chandra Bose. They will learn that it took what sacrifice and struggle by Netaji and Azad Hind Fauj to contribute to independence.
Three commissions were formed to solve the death mystery of Netaji, most importantly including Khosla Commission, which was headed by G D Khosla. This also highlighted the issues of Suresh Bose with Khosla Commission. It is very important for today's generation to understand the significance of the real hero and the reason behind India's independence. There are many unanswered, unsolved questions left in history which need to be answered today like What really happened to Netaji and how his death turned into a mystery?", added Pandey. According to the director and writer of the series, Prakhyat Pandey, the main motive of this series is solely on Subhash Chandra Bose, his 'mysterious death', and the actual life events. Rest the name of the series- The Lost Prime Minister will do justice to Netaji. The series will show Anoop Joshi, Prateek Diwan, Sanjay Mehta and others portraying the main characters. The OTT platforms on which the movie will be streaming includes Hungama Play, Airtel Xstream and VI Movies and TV.