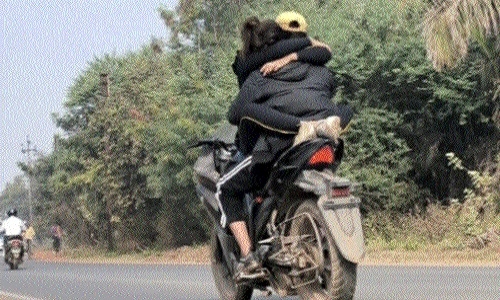 Staff Reporter
BHILAI,
THE police on Sunday arrested four persons including two girls for rash driving and indecent behaviour in public. A video of a couple riding on a motorcycle and romancing on the road had gone viral on social media on Saturday after which the police swung into action and arrested the couple.
According to an information video of a couple romancing on motorcycle in an indecent manner and going around on the roads of Bhilai in broad daylight had gone viral after which people started commenting on the inefficiency of police administration to check such indecent behavior in public and this had created a lot of uproar. After the public outcry police immediately started investigation into this indecent behavior in public and open flouting of the road regulations.
Speaking to mediapersons Abhishek Pallav, Superintendent of Police, Durg said that no wrong message should go in the public about police and police will always act tough on such people who flout rules and behave indecently.
Abhishek Pallav said that the police scanned more than 200 CCTV footage to identify the couple and the motorcycle they were riding. He said that the motorcycle was a stolen one from Rajnandgaon and the accused identified as Javed Ali a resident of Vaishali Nagar had bought the motorcycle at a throw away price knowing well that it was a stolen bike. He said that there was another couple also following them on a motorcycle to shoot this couple's motorcycle stunt. The police have taken into custody the other couple in the other motorcycle also, stated the SP. Abhishek Pallav, informed that the motorcycle did not have a registration number. Neither the boy possessed any papers as he knew that it was a stolen vehicle thus his involvement is found in the criminal act. The SP said that anyone seeing rash driving on the road or sees people flouting regulations should immediately take pictures and send it to him. After the arrest of the three accused within 12 hours the police brought them to the global chowk to give a clear message that the police will act sternly against any type of crime. The accused have been booked under rash driving, indecent act and also for purchasing a stolen bike. The two girls have been given bail from the police station itself.