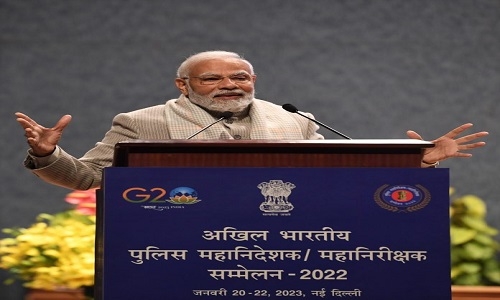 NEW DELHI,
PRIME Minister Narendra Modi on Sunday said police forces should be made more sensitive and trained in emerging technologies while further strengthening traditional policing mechanisms like foot patrols.
Addressing the 57th all India conference of Director Generals/ Inspector Generals of Police, the prime minister also emphasised on enhanced cooperation between state police and central agencies to leverage capabilities and share best practices.
He recommended repealing obsolete criminal laws and building standards for police organisations across states.
"The Prime Minister suggested making the police forces more sensitive and training them in emerging technologies," according to an official statement. Prime Minister Modi underscored the importance of the National Data Governance Framework for smoothening data exchange across agencies.
He suggested that while police forces should further leverage technological solutions like biometrics etc., there is also a need to further strengthen traditional policing mechanisms like foot patrols. Modi also favoured prison reforms to improve jail management.