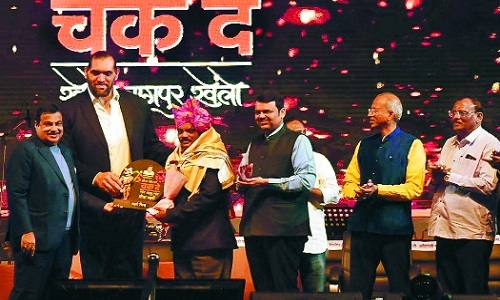 Sports Reporter
REPLYING to pleading of Union Minister Nitin Gadkari for sanctioning Rs 100 crore to improve as many as 300 grounds in the city, Deputy Chief Minister of Maharashtra Devendra Fadnavis promised from the stage to sanction the said amount. It was curtains for fifth edition of the 15-day 55-event mega sporting event — Khasdar Krida Mahotsav (KKM) at Yashwant Stadium on Sunday evening.
After Convenor of KKM former Mayor Sandip Joshi made introductory remarks, the anchor requested Fadnavis to address the gathering. Instead, Gadkari, who envisioned and materialised KKM, stood up to speak first.
"First of all, I would like to inform the gathering that Fadnavis, who Chief Minister of Maharashtra, and the then Guardian Minister Chandrashekhar Bawankule had released an amount of Rs 50 crore for shaping grounds in the city. During this edition of the event, I visited many grounds and saw that the conditions of many grounds were not up to the mark. For improvement in about 300 grounds — providing solar-powered lights so that players can play from 6 pm to 6 am, providing clean water to all the grounds, constructing changing rooms and wash rooms at all grounds, having a small viewers gallery and planting trees, I request Fadnavis to grant Rs 100 crore. I have also plans for bringing up a huge stadium at this place (Yashwant Stadium). The lease of the stadium has lapsed and I would also like to request Fadnavis to renew it further so that we can go ahead with our plans (in association of Maha Metro)."
During his speech that followed, Fadnavis said, "I would like to thank Nitin ji for providing a huge platform for city's sportspersons. Inspired by his work, I announce that Maharashtra Government, who had provided Rs 50 cr last time, will sanction an amount of Rs 100 crore this time to fulfil the dreams of our beloved leader. I would also try to expedite Yashwant Stadium lease work and see to it that the job is done within a month. I hope that the new design will come up under the supervision of Nitin ji and implemented by NIT. I will try my best to ensure that the next edition of KKM is played on the renovated and improved grounds. Also, we would like to add modern dimensions to the existing Divisional Sports Complex at Mankapur. I am also trying to get an astro turf in the city so that we can create national and international hockey players."
Earlier, city's most decorated para-athlete Vijay Munishwar, who has been conferred with State's top awards Shiv Chhatrapati and Dadoji Konddev and Indian Government's Arjuna and Dronacharya awards was honoured with Krida Maharishi award. Along with a citation, he was given a cash reward of Rs 5 lakh. As many as 23 player were feted with Krida Bhushan awards. They were handed a trophy and Rs 25,000 each.
MP Vikas Mahatme, MLC Pravin Datke, MLA Vikas Kumbhare, ex-MLA Sudhakar Kohale, Dr Piyush Ambulkar, Navneet Singh Tuli and other dignitaries were prominently present on the occasion.
After the prize distribution function ended with extinguishing Games' flames, lowering of flag and national anthem, the stage was handed over to singer Ankit Tiwari to entertain the citizens who presented some hit numbers.
Prior to the prize distribution function, local singer Punit Kushwah and his Jallosh Band entertained the crowd for exactly an hour.