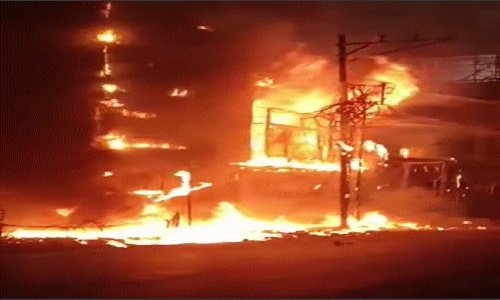 Staff Reporter
RAIPUR,
A massive fire broke out at a crowded marketplace in Raipur on Sunday morning and gutted three shops causing loss worth several lakhs. Three shops, including a shop that deals in making wedding cards, electronic outlet and a shop of kitchenware, and a godown were gutted in fire that broke out near Phool Chowk under Moudhapara police station limits this morning, said a police officer. No casualty was reported in the fire mishap, the officer stated.
Probably due to short-circuit, fire broke out in the shop of wedding cards and further spread to nearby outlets and a godown, said the officer, elaborating that exact cause could only be ascertained after an extensive investigation.
The intensity of flames coming out from the fire-hit shops was so powerful that it also caused damage to the nearby electric pole interrupting the power supply in the area, the officer added.
After being informed about the incident, police along with firefighters rushed to the spot further undertaking rescue exercises so that the further spread of inferno could be checked, the officer said.
The officer further informed that as many as four fire tenders were deployed into the task of dousing flames and these fire tenders made several rounds during the rescue exercise. It takes firefighters around eight hours to douse the fire. Prima-facie it seems like that properties worth several lakhs were gutted in the blazing inferno, but actual estimate could only be ascertained after recording the statements of victims