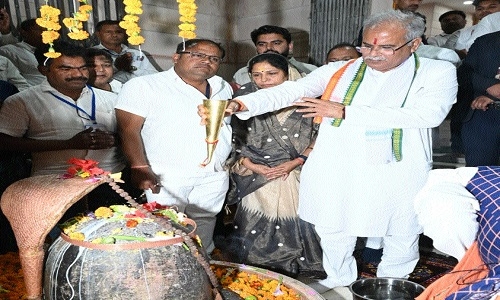 Staff Reporter
RAIPUR,
Chief Minister Bhupesh Baghel said that over 22 lakh farmers of Chhattisgarh have sold paddy at Minimum Support Price (MSP) in Chhattisgarh. Talking to mediapersons at Police Line Helipad in the State Capital before leaving for Dharsiwa legislative assembly, Chief Minister Baghel said that Chhattisgarh made a new record in paddy procurement this year after 22,93,761 farmers of Chhattisgarh sold paddy at the MSP and it is the highest in the whole country.
Baghel said that the Chhattisgarh Government has made another new record of procuring paddy. The maximum numbers of farmers selling paddy in the country are from Chhattisgarh and it shows that money has gone to the farmers of the State. This is one of the reasons that Chhattisgarh is untouched by recession, he said.
According to the data of the Reserve Bank of India (RBI), Chhattisgarh has taken fewer loans and pays its interest on time and with consistency in comparison to other BJP-ruled states. The financial management of Chhattisgarh is better than many states in the country particularly the BJP-ruled states. The BJP leaders from the state-level allegations poor financial management against the Congress Government without checking the facts, said the Chief Minister. The Chief Minister was also harsh on the BJP over the conversion issue stating that the BJP is trying to create discord in the society for reaping political advantage but they should know that the people of Chhattisgarh are harmonious by nature and accommodative.
According to the figures released by the government, more than 1,18,17,000 farmers were registered to sell paddy in this Kharif season across the country. Out of them maximum 25,14,456 farmers were from Chhattisgarh. Odisha stood second with 14,88,571 farmers and Uttar Pradesh stood third by registering 13,33,807 farmers.
22,93,761 farmers in Chhattisgarh have sold 1,03,70,243 metric tonne of paddy till January 20. Telangana is ranked at the second place, where 9,54,410 farmers sold 61,77,194 metric tonne of paddy to the government. 6,84,244 farmers have sold 33,07,839 metric tonne of paddy to the government in Odisha, which stood second in the registration. In Uttar Pradesh, only 8,12,561 farmers have been able to sell paddy. Their total yield is 57, 67,876 metric tonne.
According to official records, the Punjab Government has procured 1,79,61,884 metric tonne of paddy. This paddy has been purchased only from 7,83,448 farmers. Chhattisgarh is at second place where 1,03,70,243 metric tonne of paddy was procured so far. Telangana is in the third place and Haryana is in the fourth place, where so far 2,84,529 farmers have sold 58,82,146 metric tonne of paddy