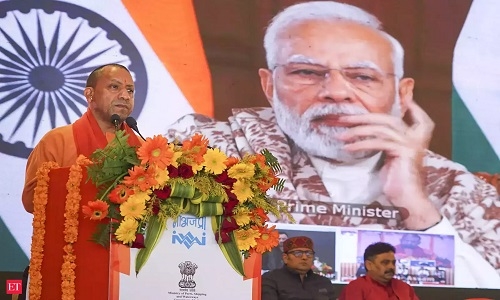 LUCKNOW,
UTTAR Pradesh Chief Minister Yogi Adityanath on Sunday said 'Modi hai to mumkin hai' is not limited to India anymore but has spread globally, a proof of that is India's presidency of G20 group, as he exhorted the BJP workers to gear up for the 2024 general election. G20, an intergovernmental group, has 19 members, besides the European Union, and is chaired by each member nation for a year, rotationally. Brazil is slated to chair the group in 2023.
"Wherever there is a crisis in the world, everyone looks towards Prime Minister Narendra Modi with hope. The slogan that was raised in 2019 - 'Modi hai to mumkin hai' - is not only India's slogan today, it has become a global mantra and India getting the presidency of G-20 is an example of that," Adityanath said.
"Modi has connected every Indian with the G20. There are 11 conferences related to G20 which will be held in Agra, Lucknow, Varanasi, and Gautambuddha Nagar," he said, addressing the daylong inaugural session of BJP's state executive meeting at Indira Gandhi Pratishthan.
Referring to the Global Investors Summit which will take place from February 10 to February 12, he said that UP is emerging as a destination for new investments and every BJP worker needs to come forward. "We all move forward with the spirit of victory. Many possibilities will come to us." Criticising the past UP Governments, he said, "Yesterday you must have seen Mauni Amavasya's bath in Prayagraj. More than 2 crore devotees had gone there. If the previous Governments tried to understand this potential, then we would not have had to knock on others' doors."