Three-day B20 meet begins in Gujarat to deliberate on climate change, innovation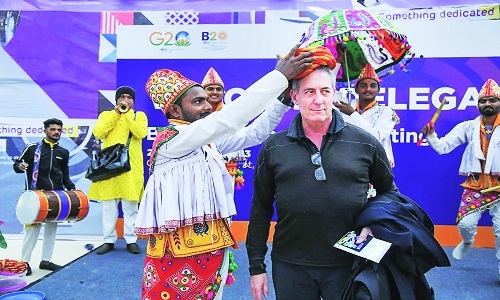 AHMEDABAD,
THE Business 20 (B20) inception meeting being organised in Gujarat's Gandhinagar city from Sunday as part of India's G20 presidency will deliberate on issues ranging from climate change, innovation, global digital cooperation and resilient global value chains, officials said here. As part of the three-day meeting, delegates will be taken for a visit to Dandi Kutir, a museum on Mahatma Gandhi in Gandhinagar, on Sunday evening, Gujarat finance department's principal secretary Mona Khandhar told reporters. The B20 India 2023 dialogue will take place under the theme of 'RAISE,' an acronym for Responsible, Accelerated, Innovative, Sustainable and Equitable Businesses, she said.
A plenary session for the B20 meeting will be organised at the Mahatma Mandir in Gandhinagar on Monday in which Union Commerce Minister Piyush Goyal, Railway Minister Ashwini Vaishnaw, Gujarat Chief Minister Bhupendra Patel and India's G20 Sherpa Amitabh Kant will take part, the official said.
"The plenary session will take up deliberations on themes such as climate change, sustainable economic development, financial inclusion, and resilient global value chains. The deliberations will discuss the transformative initiatives undertaken by the Gujarat Government, which is enabling cleaner, greener, and inclusive economic growth," Khandhar said.
A host of international and Indian industry leaders will participate in the plenary session. At least 600 delegates, including 250 international delegates from the G20 and guest countries as well as multilateral organisations and academia, and 250-300 delegates from Indian industry will participate, she said.N On Tuesday, the third and last day of the event, the Government has also organised visits of the delegates to GIFT City (Gujarat International Finance Tec-City) and Adalaj stepwell as well as a yoga session, Industries Commissioner Rahul Gupta said.
"As 2023 is declared as the International Year of Millets by the United Nations, Gujarat will serve millet items during meals to the delegates during the meetings," he said. The Chief Minister will host a dinner for the delegates on Sunday, during which they will get to savour several Gujarati delicacies, including fusion food made of millets, Gupta said. This is the first of 15 meetings to be hosted by Gujarat as part of India's G20 presidency. Gandhinagar will host 10 such meetings, Ahmedabad two, and one meeting each will be held at Surat, Kutch and Ektanagar, officials said. B20 is the official G20 dialogue forum that officially conveys its final recommendations to the G20 presidency, Khandhar said.
It is among the most prominent engagement groups in G20, with companies and business organisations as participants. The B20 leads the process of galvanising global business leaders for their views on issues of global economic and trade governance, she said. The Confederation of Indian Industry (CII) is the secretariat for B20 India and Tata Group Chairman Natarajan Chandrasekaran is the chairman for B20 India, Khandhar said.