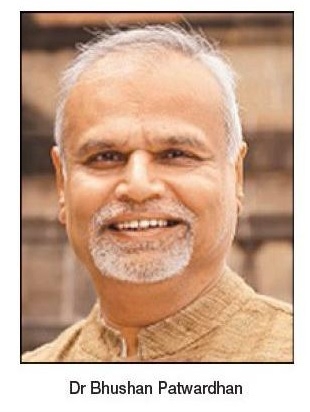 By Vikas Vaidya :
MASSIVE changes are in the offing in the country's higher educational eco-system as the National Accreditation and Assessment Council (NAAC) has planned to do away with the practice of graded accreditation to colleges. "That will bring to an end the cut-throat competition among colleges to gain higher grades in the certification. The gradation system has created unnecessary cut-throat competition due to which everything went haywire. Unfortunately, the gradation was focused more on quantity and missed the quality aspect. Now NAAC will emphasise on quality for which some changes are being introduced in overall system and removing gradation is one of those" said Dr. Bhushan Patwardhan, the stylish Chairman of NAAC in an exclusive interview with 'The Hitavada'. While in Nagpur to attend an event on multidisciplinary research organised by Datta Meghe Institute of Higher Education and Research, Dr. Patwardhan found time to share with 'The Hitavada' his views on higher education and his proposed moves to rectify problem areas. Even as he talked about structural changes such as the decision to withdraw gradation in certification, Dr. Patwardhan also expressed concern about the general quality of higher education in the country. He said, in effect, improvement in quality of higher education is a truly challenging area which India's higher educational eco-system did not pay much attention to.
"This has to change," he said, and added that NAAC will take some revolutionary steps that would transform the texture of teaching-learning process in colleges. Dr Bhushan Patwardhan is a versatile personality. He is a Professor of Health Sciences, biomedical scientist, and ethnopharmacologist. He served as the chairman of the interdisciplinary AYUSH Research and Development Task Force on COVID-19. He was Vice Chairman of University Grants Commission. How would one distinguish between colleges that maintain high standards and others, if gradation system is abolished? To this question, Dr. Bhushan Patwardhan replied, "Institutions will have an option of getting their programmes accreditated and they would get the gradation for those programmes. For example, one college having 10 programmes accreditated and received A+ grade so it can add it to its profile." Blasting the uneducational practice of some colleges seeking the help of so-called professional agencies to secure high gradation for their institution, Dr. Patwardhan stressed that the NAAC proposed to take stern action in this regard. "We will identify such agencies and tear them down. This agency business got a fillip only because of the gradation system, and we have no tolerance for any such arrangement. In the first place I wonder why institutions need non-academic agencies to prepare themselves for NAAC inspection," he asked indignantly. Dr. Patwardhan then talked of a provision neglected by colleges -- by way of which each NAAC A+ college is expected to mentor at least ten institutions in the surrounding area for appropriate certification. Obviously, he hinted, such a practice is followed more in absentia than in reality.
Turning his attention to larger issues of education, including the New Education Policy (NEP), Dr. Patwardhan talked about development of sensitivity among students towards various social traumas and faultlines. "A student must feel the pain of the suffering masses, and have the ability to shed tears of sympathy and empathy. In addition , the student must also develop an urge to get engaged in practical work to erase the pain of the suffering people. "This is the aim of education -- to sentitise the human mind, and prepare it for doing altruistic work besides managing his or her own narrow life," Dr. Patwardhan added. Then came the issue of aesthetics in Dr. Patwardhan's masterly discourse. "Aesthetics is also an integral part of human sensitivity and sensibility. one of the main goals of education should be to help students acquire what we call aesthetic sense which qualifies him or her to understand the finer nuances of life in general and art and literature and humane sentiment in particular. The New Education Policy envisages work in this critical yet soft area of human grooming," Dr. Bhushan Patwardhan added, with his eyes flaring with emotion. . Expressing pain over the unwillingness in universities over proper research, Dr Patwardhan pointed out how he had identified 98% journals as bogus. To everyone's surprise these journals were listed by University Grants Commission. According to him creation of an atmosphere that would encourage everyone to do research is a need of the hour. "Our courses have become outdated. While amending the courses, the unnecessary part should be removed. There is no need to have curriculum or study in large volume. Important part is quality and curriculum should enable students to get linked with the industry immediately," said Dr Patwardhan.