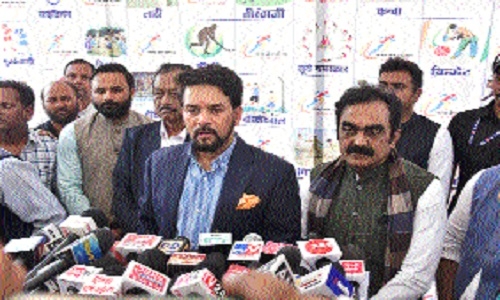 Staff Reporter
The 12-day Sansad Khel Mahotsav which started on Swami Vivekananda's birth anniversary, concluded on the birth anniversary of Netaji Subhash Chandra Bose at Ranital Stadium, on Monday.
Union Minister for Sports, Information and Broadcasting Anurag Thakur was chief guest of the programme.
During the event, Anurag Thakur announced construction of a modern indoor stadium in Jabalpur on request of Member of Parliament Rakesh Singh. He said as many as 18 different sports can be conducted in the stadium and it will be equipped with all modern facilities and be constructed with a cost of around Rs 6 crore.
While addressing a huge gathering and media also, the Union Minister said Prime Minister Narendra Modi is making unprecedented efforts to promote sports. He congratulated Rakesh Singh for organizing Sansad Khel Mahotsav which was focused on promotion of traditional games. Paying tributes to Netaji Subhash Chandra Bose, he said Netaji had played an important role in the freedom struggle. Today people hesitate to gather 100 people, while Netaji formed entire Azad Hind Fauj. He also formed a woman brigade in the name of Maharani Lakshmi Bai.
Thakur said India is moving forward in every field including Sports. India won two gold medals in the Rio Olympics in 2016, but in 2022 Olympics the country has won maximum 7 medals. Last time in Paralympics India got 4 medals, this time we got 19 medals and till date in the history of 73 years where we did not win Thomas Cup of badminton, this time we have won Gold medal in the tournament.
The Union Sports Minister said when Narendra Modi became the Prime Minister in 2014, then the budget for sports was Rs 866 crores and today the budget has increased to more than Rs 2000 corers. He said by August 15, 2023, 1000 Khelo India Centres will be developed in the country, which will be run by famous players. To develop players talent, the Government has started Target Olympic Podium Scheme "TOPS" in which the players will be trained by famous players like Mirabai Chanu, Neeraj Chopra and others, he added. Union Minister Thakur said now Madhya Pradesh has an important role in the field of sports in the country because it is shouldering the responsibility of Khelo India Youth Games in which players from all over the country will participate. He said PM Modi has made an unmatched effort to promote sports, but success is not possible until public representatives like MPs, MLAs not work on grass root level to develop sports in concerned areas. Thakur said PM Modi has given a slogan in the Fit India Campaign that "Fitness Ka Dose - Aadha Ghanta Roz" means one should give at least half an hour to keep body healthy. He said to increase participation of women in sports, the Government has started Khelo India Women league in which 23,000 women and girls have participated. Thakur said as many as five traditional games including Yogasan, Karate Pattu, Tamta, Gatka and Malkhamb have been included in Khelo India Youth Games. It is our endeavor that an ancient game like Malkhamb should not be limited to any region but become a national and international level game, he added. MP Rakesh Singh also expressed his views on the occasion. He said Sansad Khel Mahotsava was organized to fulfill the determination and pledge of PM Modi towards sports. Union Sports Minister Thakur and other guests also felicitated the winner and runner-up team as well as individuals of the district level sports conducted during the event. Players were awarded with trophies, medals and certificates.