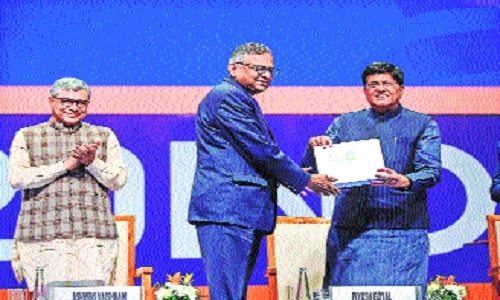 GANDHINAGAR,
INDIGENOUSLY-developed 5G and 4G telecom technology stack will be rolled out in the country this year and the platform will be offered to the world from next year, Union Telecom Minister Ashwini Vaishnaw said on Monday.
While speaking at The Business 20 (B20), the official G20 dialogue forum with the global business community, Vaishnaw said that only five countries in the world have end-to- end 4G-5G telecom technology stack but now with the public-private partnership, India has developed its own technology which has been tested to handle 10 million simultaneous calls.
"Our private and public partnership approach has given us a solution where the core was developed, invested by the public sector, public funds, and everything else sitting on it comes from the private partners. In this entire 2023, we will be rolling it out on about 50,000 to 70,000, towers, sites and then in 2024 will be offering it to the world," Vaishnaw said. The Minister also elaborated on four broad approaches directed towards economic management, digital economy, regulation in digital economy and development of new technology that India has taken under the leadership of Prime Minister Narendra Modi to help solve some of the pressing problems.
Referring to the COVID-19 pandemic and its impact, Vaishnaw said in the last two years the world has seen a very turbulent period which has never been there for more than a century but the response in many geographies to it has been as per textbooks.
B20 has important role to play, says N Chandrasekaran: THE Business-20 has a unique opportunity and a very important role to play in working out agenda that can be value adding for all G-20 nations and the rest of the world, B20 India Chair N Chandrasekaran said on Monday. Chandrasekaran, who is also the Chairman of Tata Sons, said during India's leadership of the forum, various initiatives would be taken up in several areas, including global supply chain, creative skills, circular economy, digital transformation and financial inclusion.