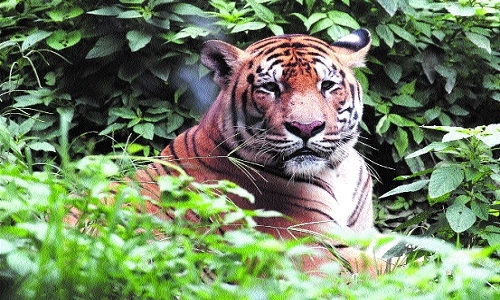 Staff Reporter
Once again there is panic among locals due to the movement of tigers, in the forests of Kaliasot and Kerwa of the state capital. This has now been confirmed by officials concerned of the Forest Department.
The pugmarks of this new tiger are not matching those of other tigers roaming in the area. For this reason, the officials of the forest department are considering this as a new tiger. Earlier footage of a tiger was captured in a trap camera of the forest department installed near Valmi.
In the Samardha area, the employees of the Forest Department were talking about the movement of the tiger in the area for the last three weeks. However, the officials of the Forest Department did not confirm this then. But now he will search the pugmark and check its route.
Forest Department officials are claiming that this tiger is neither T-3 nor T-5. Because the pugmarks of both the tigers are not matching with this new tiger. The male tiger of 123 has also had to leave his territory because of this new tigress. His GPS location is visible in another field. It is believed that this new tiger is more powerful. Because of this the old tiger has also had to leave his territory. According to officials, the territory of a male tiger in the forest is spread over several square kilometres.