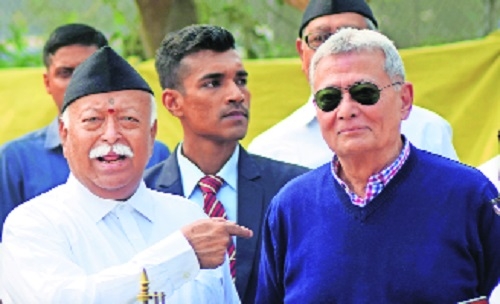 KOLKATA,
RASHTRIYA Swayamsevak Sangh (RSS) Chief Mohan Bhagwat on Monday said that the goals of his organisation and that of Netaji Subhas Chandra Bose are similar - making India a great nation.
His comment comes amid the criticism that the ideologies of the RSS and the freedom fighter were not the same.
Lauding Netaji's contribution to India's freedom struggle, Bhagwat urged everyone to imbibe the qualities and teachings of Bose and work towards making the country a "vishwa guru" (world leader).
"We remember Netaji not only because we are grateful to him for his valuable contributions towards the freedom struggle but also to ensure that we imbibe his qualities. His dream of India, which he wanted to build, is still not fulfilled. We have to work to achieve it," he said. Situations and paths might differ, but the destination remains the same, Bhagwat said while addressing a mega RSS event - 'Netaji Loho Pronam' - at Shahid Minar Ground here.
Critics pointed out that Netaji believed in secularism which is "against the 'Hindutva' ideology of the RSS".
"Subhas babu (Netaji) was first associated with the Congress and followed its path of 'satygraha', and 'andolon', but when he realised that this was not enough and there was a need for freedom struggle, he worked towards it. Paths differ, but the goals are the same," he said.