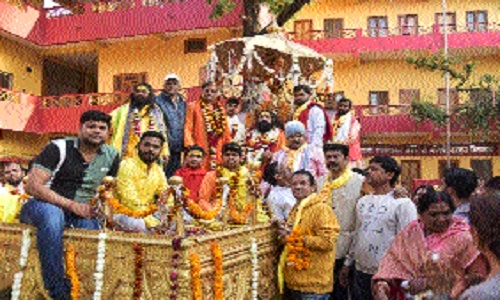 Staff Reporter
A grand Shobhayatra marked the Divya Patotsava of Baglamukhi Mata at Baglamukhi Siddha Peeth Shankaracharya Math, Civic Centre, Marhatal, on Monday.
The day was celebrated in a festive manner in special presence of Private Secretary of Jagadguru Shankaracharya and Math Mandir Advisory Committee, Chairman, Brahmachari Subuddhanand Maharaj under the supervision of Brahmachari Chaitanyanand Maharaj. The celebration started with Mangal Aarti and Shringar of Maa Bhagwati while Sahastrarchan of goddess was carried out with roses.
Centre of attraction on the occasion was a grand Shobhayatra which was taken out from Baglamukhi temple and passed through Malviya Chowk, Super Market, Lordganj police station, Bada Fuhara, Tularam Chowk, Karamchand Chowk, Ram Mandir. Grand and attractive religious procession concluded at Baglamukhi temple followed by a grand Bhandara and Prasad distribution.
In second phase of the celebration, special worship and Panch Mahaarti programmes of Maa Bhagwati Peetambara Baglamukhi. Brahmchari Subuddhanand Maharaj informed that Mata Baglamukhi is eighth of the ten Mahavidya who is also known as Mata Peetambara. Maa Baglamukhi fulfill all the wishes of devotees and protected them from all the enemies. MLA, Vinay Saxena, Bharat Singh Yadav, Rohit Jain, Ayodhya Tiwari, Madhu Yadav, Kundal Rao, Yogendra Dubey, Abhijat Krishna Tripathi, Manoj Sen and others were present.