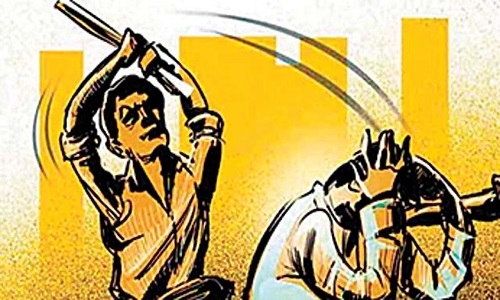 Staff Reporter
Two were injured in a group clash over an old rivalry near Ravidas Mandir under the jurisdiction of Hanumantal police station late night on Sunday.
Hanumantal police informed that at around 11:30 pm on Sunday, a boy named Sachin Choudhary (22), a resident of Sindhi Camp, Badi Madar Tekri area lodged a complaint that he was returning from work on Sunday night. He was passing through Ravidas Mandir where he witnessed that his younger brother Mohit Choudhary, Ajjy and Bharat were clashing. He reached the spot when Bharat and Ajju started abusing him. He objected them for abusing when Ajju attacked him with sword and wounded his head. His brother Mohit tried to protect him when the miscreants threatened them to life and escaped from the spot.
On the other hand, Ajju Ahirwar (33), resident of Sindhi Camp, Badi Madar Tekri lodged a complaint that he was walking in front of his house where Mohit Choudhary and his brother Bharat were talking. Meanwhile, Mohit's brother Sachin Choudhary arrived and started abusing his brother Bharat. Witnessing the incident, he objected the miscreants for abusing when Mohit wounded his head with sharp edged weapon. He fell down on the road when miscreants threatened him to life and managed to escape from the spot. Acting on both the complaints, Hanumantal police have registered counter cases under Sections 294, 324, 506 and 34 of IPC and started investigation into the case.