Making IB, RAW reports public a matter of grave concern: Rijiju on SC Collegium resolutions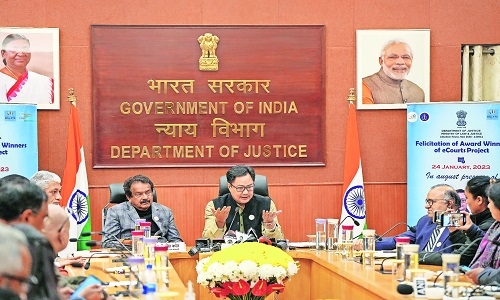 NEW DELHI,
LAW Minister Kiren Rijiju on Tuesday said it was a "matter of grave concern" that certain portions of sensitive reports of the Intelligence Bureau and Research and Analysis Wing were put in public domain by the Supreme Court Collegium.
He said Intelligence agency officials work in a secret manner for the nation, and they would "think twice" in future if their reports are made public. He was responding to questions on some recent Supreme Court Collegium resolutions,
which contained potions of IB and RAW reports on certain names recommended by the top court for appointment as High Court judges, being made public last week.
The Collegium had reiterated the names to the Government earlier this month while rejecting Intelligence inputs.
"Putting the sensitive or secret reports of RAW and IB in public domain is a matter of grave concern on which I will react at an appropriate time," Rijiju told reporters at a Law Ministry event here.
For some, white rulers are still their master: Rijiju on BBC documentary: Union Law Minister Kiren Rijiju on Tuesday made a scathing attack apparently on a BBC documentary on Prime Minister Narendra Modi which has sparked controversy since its release, and said some people have still not gotten over their "colonial intoxication" and for them "whites" are still their "rulers". "For some people, the white rulers are still the masters whose decision on India is final and not the decision of the Supreme Court of India or the will of the people of India," Rijiju tweeted in Hindi tagging his earlier tweet on the minority in the country, who he claimed were moving forward with positivity.