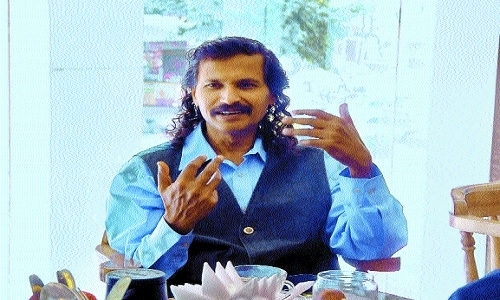 By Vijay Phanshikar
FOR himself, he looks to a life of full utility to the society -- till he lasts, up to the very last minute, last breath. Having been a top corporate executive for long in the United States, Jeetendra -- Jeetu -- Jodhpurkar now draws his inspiration from the spiritual legacy of India to live such a life where 'causeless mercy' is his mode of being of help to those who need it. Sporting shoulder-length dark hair that cascades freely from his head, Jeetendra Jodhpurkar now operates through a major not-for-profit organisation 'Share Our Strength' (SoS) as its Executive Director. India is one of the focal points of the organisation, and Jeetendra Jodhpurkar is in town to be part of the aid programme that will be worked in collaboration with the famed Akshaypatra initiative providing meals to the needy in the city -- in tune with his personal motivation to work for others for lifetime.
Yet, the participation in this initiative still does not explain completely what Jeetendra Jodhpurkar is. For, his motivation to work for larger public good has an inner core as well -- of deep-seated spirituality. For record, he may have stumbled upon the thought only accidentally as if. But the truth is that his personality had been nurtured wittingly or unwittingly upon the Indian spiritual thought back home in Nagpur where he was born and brought up to become a chemical engineer. There must be in his family some spiritual seed that sprouted at a certain point in time when he was a seasoned corporate executive in Washington DC -- in Washington Gas. An accidental listening to a doha -- verse -- by Saint Tulsidas led Jeetendra Jodhpurkar to start thinking more deeply about
spirituality as the best potion of a meaningful life. That happened when he was travelling to attend a meeting of the Board of Directors of the company of which he was chief, having got to hear the verse on the car music player. The verse talked of human tongue -- Rasana -- that created its own potion and kept itself moist and healthy. Jeetendra Jodhpurkar realised the importance of self-nursing of sorts as a mode to be in.
Shrimad Bhagwat Geeta was, of course, the book that often attracted his attention. But he got introduced to studying it in depth about twenty years ago when Jeetendra Jodhpurkar was in his thirties. "That is an amazing book -- of spiritual wisdom, of practical utility, an actual guide for anybody and everybody," he says. As he speaks these words, his eyes sparkle, and his voice assumes a softer tone. That was also the time when his parents were visiting him in the US. Once, when everybody was at home -- wife and the daughter and son included -- Jeetendra Jodhpurkar started talking about Geeta and its message. The family listened by withdrawing from the tasks at hand. That was a good experience. Soon, a few friends, too, started zeroing in when he spoke about Geeta, little knowing at that time that some day in future, he would address large audiences highlighting the message of Shrimad Bhagwat Geeta. That has become now the main pursuit of Jeetendra Jodhpurkar, so to say -- not just delivering the message of the Lord as put forth in Geeta, but expanding the exposition to include other books of India's traditional wisdom -- like the Upanishads, like the Uddhav Geeta, like the Ashtavakra Geeta ...!
In the initial days when he grappled with the spiritual message for himself, Jeetendra Jodhpurkar almost became a recluse of sorts -- making his wife worry about what turn that spell might take. But the good lady understood one thing correctly -- that her husband was chasing a truly fine thought, understanding the essence of spirituality.
It was during those times that Jeetendra Jodhpurkar made a momentous decision -- to opt out of corporate life and start seeking the genuine pleasure of helping the needy. That was when he got associated with 'Share Our Strength' and found a genuine pleasure in working for the larger cause to combat hunger as a bane of humanity. "When there is a big pit in your stomach, you cannot think of any spiritual elevation," he insists. Eventually, working in the not-for-profit venture, Jeetendra Jodhpurkar got to start working on projects in India. He soon became Executive Director of 'Share Our Strength'. Start a conversation about Geeta and its message and Jeetendra Jodhpurkar's persona assumes an altogether different light. He may have spent decades in the United States, but he remains every inch an Indian. His American accent is obvious when he speaks English, but his mastery over Marathi and Hindi is
wonderfully fluent, and his understanding of Sanskrit is of a superior variety.
Has Jeetendra Jodhpurkar given up luxuries of life? -- one may ask. That may not be the case in a pronounced manner. But doubtless, he has chained his desires to think and live simply -- steeped in spirituality. When a person stops living for himself and seeks a larger context and purpose of life, then the outcome is obvious -- a spiritually-inspired aloofness.