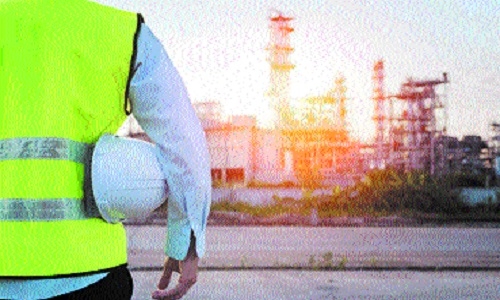 Staff Reporter
More than 70,000 outsourced and contract employees of state-owned power corporation in Madhya Pradesh on Tuesday began an indefinite strike demanding regularisation of their services. Earlier, they were holding phase-wise protests at districts since January 21.
Apart from regularisation of services, the other demands are Accidental insurance up to Rs 20 lakh, cashless mediclaim policy, compensation to employees injured on duty and appointment on compassionate ground of family members of employees who died while serving for the company, old pension scheme after retirement. They have boycotted the works under the banner of United Forum for Power Employees and Engineers. They are neither rectifying line fault nor giving new electricity connections. In such a situation, difficulties will increase in front of the common people. Dharna is also being organised at Govindpura in Bhopal from 11 am on Tuesday. Outsourced workers are already on strike. Which has also been supported by the United Forum.
Here, on the strike, Energy Minister Pradyuman Singh Tomar said that he will sit and discuss with employees. Contract and outsourced employees are on indefinite strike and United Forum has supported him. Forum's spokesperson Lokendra Srivastava said that the indefinite work boycott has started from January 24.
Board, regular, contract and outsourced workers of the state are joining the great movement in relation to fulfillment of their demands. Have started picketing in Govindpura, Bhopal.
Strike postponed earlier due to NRI meet: Forum's state convenor K S Parihar said that earlier they were going to go on an indefinite strike on January 6, but it was postponed due to the NRI meet. We were assured that a meeting would be held before the Chief Minister within 15 days, but this period has passed. Till now no meeting has been held nor the demands have been considered. Meanwhile, the outsourced employees have started the strike from January 21. They are boycotting the works. The Forum supports their demands. From Tuesday we also started boycotting the works. These works will be affected: If there is a fault in the power supply line, the staff will not reach to repair it. Due to this people will face long power disruption.
New electricity connections will not be given due to which people will have to wait for new connection. Electricity bills will also not be recovered. Patrolling and survey work will also remain affected.