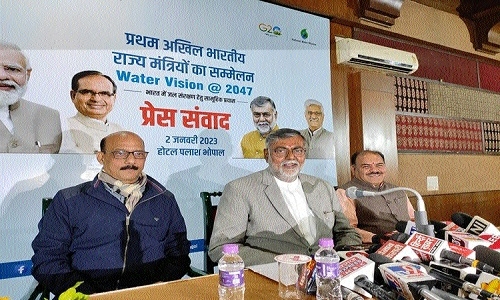 By Bhavana 'Aparajita' Shukla
To bridge the gap between states over water sharing related issues and to enhance proper distribution of precious natural resources, the Union Ministry of Jal Shakti Prahlad Singh Patel is going to bring all representatives from states under one roof. The Ministry of Jal Shakti is going to organise an All India Annual State Ministers Conference on Water, said Minister of State for Jal Shakti Prahlad Singh Patel while interacting with the media in the State capital.
The two-day conference will be held on January 5 and 6 at Bhopal. It will be in line with 'Water
[email protected]
'. The primary objective is to seek and strengthen the partnership with the states and stakeholder ministries and to achieve a shared vision in order to manage water as a precious resource in an integrated manner with holistic and interdisciplinary approach. This is the first of its kind conference on the subject of water. Here, inputs on this vision from the stakeholders of the State will be taken and share the schemes of the Ministry of Jal Shakti with them. Union Jal Shakti Minister Gajendra Singh Shekhawat will inaugurate the conference. Chief Minister Shivraj Singh Chouhan and ministers of all the states will participate in the conference. There will be five sessions in this conference.
Deliberations will be on to develop and disseminate technologies, and monitor and implement national policies for the scientific and sustainable development and management of India's water resources, including their exploration, assessment, conservation, augmentation, protection from pollution and distribution, based on principles of economic and ecological efficiency and equity. Officials and public representatives from concerned departments, including Public Health Department, Irrigation Department and Water Resources Department, have been asked to be ready with their suggestions and inputs for this event.
Based on their inputs, a roadmap will be prepared for
[email protected]
to bring India in the category of developed nation.
In this programme, there will be five thematic sessions - Scarcity of Water, Proper usage of surplus water, water / sewage treatment and Water Governance, Water Quality. In 2019, under the second term of the Modi led government.
This was formed by merging of two ministries; Ministry of Water Resources, River Development & Ganga Rejuvenation and Ministry of Drinking Water and Sanitation.