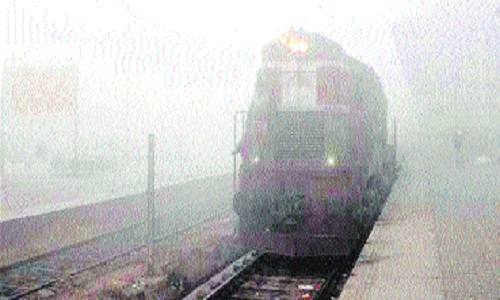 Staff Reporter
As dense fog triggered by cold wave conditions led to low visibility, hence, a dozen trains passing through northern part of country are arriving late in Bhopal and other stations in State.
A dozen trains, including Humsafar Express, LTT-GKP, Duranto, were delayed by several hours on Monday. Retiring and waiting rooms of railway stations are almost full with passengers as train are generally late by six to eight hours. People driving on roads also faced difficulty due to low visibility triggered by dense fog. Plugged-in to the fog that State capital Bhopal have started experiencing in morning and evening hours for past few days. About two years back, Bhopal railway distributed 650 fog safety device to the loco pilots.
These devices were to help loco pilot to bring the rail traffic on gear. Through this device, loco pilot get alert of level crossing and signals. The device raise an alert for distance of the traffic signal along with its colour red, yellow and green. The driver of the train get complete status of traffic signal that help them to run the train on right track even in dense fog. However, the device seems to failing in its aim. There are about 200 trains, including routine and special, pass every day from Bhopal, Rani Kamalapati, Sant Hirdaram, Itarsi and Bina stations within 24 hours. Trains coming from Northern part of India usually reach late. Punjab Mail, Kushinagar Express and other few trains are reaching Bhopal by six to eight hours late. Passenger board in the train faced several problems due to delay in train. To avoid such situation, railway distributed fog safety device to the loco pilots. The device help to keep on train running even in dense fog. The device was placed in driver's cabin and it alerts the drivers of approaching signal on the track in the fog. Foggy weather affects the visibility of signals. When driver get alert about the approaching signal, there would be no hurdle to increase the speed.
However, there are also a few drawbacks of the device. Railway officials said that the device would not be able to notify about the turn, uphill and downhill. During year 2017, Railway Board assured infrared night vision cameras in trains. However, these cameras could not be installed in any of the train engine under Bhopal Division. Three years back, railway installed anti-fogging device in few trains especially in fog hit areas. This device was attached with Global Positioning System (GPS) through which loco pilot get information of the upcoming signals. But through this device, pilot does not inform about the Red or Green signal. As the GPS based device failed to solve the purpose, railway introduced Infrared night vision cameras in engine which help to clear the vision from 20 to 100 meter of areas even in dark fog. Control of this camera usually remains with the pilot. These infrared night vision cameras were proposed to install in engine of trains passing through Bhopal division. Talking about the issue, railway official said process of camera installation is going on. They said that Bhopal city has not much fog so there is need to install the cameras in trains passing through Northern India which is already going on. There was proposal to install the night vision cameras in a few trains passing through Bhopal and process for the same has been started. Officials said that northern part of India has dense fog as compare to West Central Railway. During year 2016, there was plan to install the GPS-based anti-fog device in trains passing through Bhopal. But Bhopal railway proposed authorities to check the success of device to combat accidents and the huge monetary losses caused by fogs during winters. Railway authorities said that there was no plan to get the anti-fog device in WCR zone as it was on initial stage. They said, it is true that trains are getting affected in winters due to fog but it the proposed device cost huge to railways. There were proposals to check the success parameters of anti-fogging device to mitigate the problems. After a gap of two years, Railway finally accepted that the device is not as much as successful than its cost.