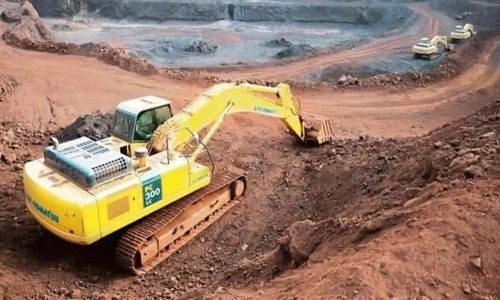 Business Bureau
Breaking a multi-year record, MOIL has registered best December production of 141,321 tonnes in December, 2022. Producing at its rated capacity level, production increase has been to an extent of 18 per cent over November, 2022. Sales at 1,64,235 tonnes for the month has also been spectacular, with a growth of around 91 per cent over November, 2022.
Ajit Kumar Saxena, CMD MOIL, who has taken charge as Chairman and Managing Director on December 29, 2022, shared that it is heartening to see MOIL team coming together to register such a performance and expressed confidence that the same will be continued. The impact of the record production by the company was also visible in the stock market on Monday when the shares of the state-owned miniratna rallied over 5 per cent to Rs 170 in intraday trade on BSE.
MOIL Limited is a schedule-A, Miniratna category-1 CPSE under the administrative control of Ministry of Steel, Government of India. The company is the largest producer of manganese ore in the country with a market share of about 45 per cent.
At present, MOIL operates 11 mines, seven located in the Nagpur and Bhandara districts of Maharashtra and four in the Balaghat district of Madhya Pradesh. All these mines are about a century old. Except 4, rest of the mines are worked through underground method. The Balaghat mine is the largest mine of the company.
The mine has now reached a mining depth of about 383 meters from the surface. Dongri Buzurg mine located in the Bhandara district of Maharashtra is an opencast mine that produces manganese dioxide ore used by dry battery industry.
This ore in the form of manganous oxide is used as micro-nutrient for cattle feed and fertilizers.
MOIL fulfils about 50 per cent of the total requirement of dioxide ore in India. At present, the annual production is around 1.1 million tonne which is expected to grow in the coming years. The company has ambitious vision of almost doubling its production to 3.00 million tonnes by 2030. MOIL is also exploring business opportunities in Gujarat, Rajasthan and Odisha besides other areas in Madhya Pradesh.