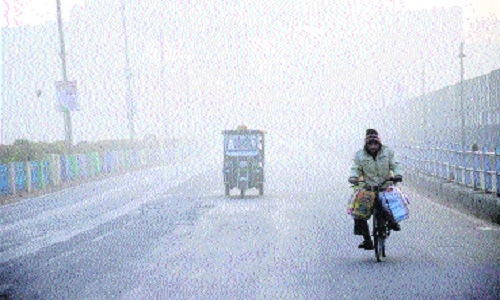 Staff Reporter
Mercury in State capital dipped by 3.5 degrees Celsius and minimum temperature was recorded as 7.2 degrees Celsius on Monday. It was a dense fog in Bhopal and visibility remained only 50 meter. Though it was sunshine after 10 am but cold conditions were giving tough time to the denizens. Several parts of Madhya Pradesh recorded major decline in temperature. Maximum temperature in several districts went down by 3 degrees Celsius. Medium to dense fog enveloped the parts of Gwalior, Bhopal and Chambal region.
Pachmarhi recorded lowest night temperature in state as 4.5 degrees Celsius. Gwalior recorded minimum temperature as 8.2 degrees Celsius and Indore as 9.4 degree Celsius. Only Khandwa, Khargone, Khajuraho, Satna, Rewa, Sidhi and Seoni recorded temperature above ten degree Celsius. Remaining all districts recorded temperature below 10 degrees Celsius.
Apart from Bhopal, Raisen, Guna, Umaria, Damoh, Khajuraho, Jabalpur and Sagar recorded day visibility as 50 meter to 500 meter. Weather Department forecast that bone-biting cold would get settle in Madhya Pradesh on January 5. Officials said that temperature would start decreasing from November 5 as the impact of cyclonic circulation over Bay of Bengal would clear by then and cold northerly winds will start blowing over the State. According to Meteorology Department, weather would be changing in State in next 24 hours as there are chances of hail storm in Jabalpur, Bhopal and nearby areas. Officials of Meteorology Department said that there are chances of rainfall in eastern part of MP and if there will be strong system, temperature will be declining by 3 to 4 points. Weather officials said that there are probability of rainfall on January 5 and 6. Jabalpur, Narmadapuram and Betul would be witnessing two days rainfall that would be reason for declining temperature. Most of districts in MP would have night temperature below 5 degree Celsius. Gwalior, Chambal, Bundelkhand, Baghelkhand and Mahakoshal would be recording night temperature below 7 degrees and Bhopal, Indore, Ujjain and Narmadapuram will have night temperature below 9 degrees Celsius. Weather Department forecast dense fog in Bhind, Morena, Sheopur, Gwalior, Shivpuri and Datia. Sagar, Satna, Rewa, Raisen and Bhopal will be witnessing medium fog.