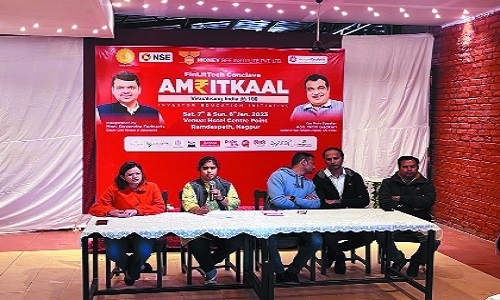 Business Bureau
Nagpur's young and dynamic entrepreneur Shivani Dani-Wakhare of Moneybee Institute will be organising a two-day conclave on January 7 and 8 at Hotel Centre Point, Ramdaspeth.
This was revealed by Shivani Dani-Wakhare of Moneybee Institute while speaking at a press conference on Wednesday. Poonam Khandelwal of Venture Catalysts, Ritesh Rahate, Gaurav Tanksale and Shravan Rokde of Moneybee Institute were also present.
Shivani Dani-Wakhare said that the grand event will be inaugurated by Devendra Fadnavis, Deputy Chief Minister of Maharashtra at 12.30 pm on January 7. This will be followed by expert sessions of S P Tulsian, share market expert at 2.30 pm and Vijay Kedia, Director of Kedia Securities at 4.30 pm. The concluding session will be graced by Nitin Gadkari, Union Minister for Road Transport and Highways and Dr Apoorva Sharma, Co-founder of Venture Catalysts Group.
On January 8, the event will begin with a talk by Sanjeev Sanyal, PMEAC at 11 am. This will be followed by lectures from Ridham Desai, MD, Morgan Stanley India at 1.30 pm and Nilesh Shah, MD, Kotak Mutual Fund, Dr Apoorva Ranjan Sharma, MD Venture Catalysts Group and Vishesh Khurana, Co-founder of Shiprocket at 4 pm.
The conclave also aims to visualise, discuss and analyse the economic scenario in the centenary year of independent India and two and half decades hence. There is no entry fees for participants.