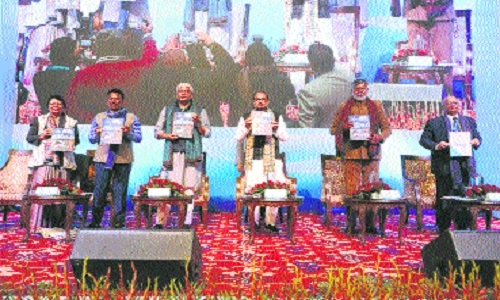 Staff Reporter
On the initiative of Prime Minister Narendra Modi, for the first time in the country, the first All India Annual Conference of State Ministers on water conservation started at Kushabhau Thakre International Convention Center Bhopal. Chief Minister Shivraj Singh Chouhan and Union Jal Shakti Minister Gajendra Singh Shekhawat presented their views in the programme. Union Minister of State for Jal Shakti and Food Processing Industries Prahlad Singh Patel was present. Ministers of Water Resources, Public Health Engineering and Irrigation and officials of related departments of all the states and union territories participated in Water
[email protected]
In this two-day conference which will continue till January 6, a roadmap will be prepared to solve the water problems. Chief Minister Chouhan also inaugurated the exhibition at the venue. Chouhan, Shekhawat and Patel inaugurated the programme by offering water from small pots to a big pot as a symbol of water conservation and accumulation.
e-launching of Jal Itihas sub-portal and release of books named National Framework on Reuse of Treated Waste Water, National Framework for Sediment Management and was done in the programme. Along with this, a short film on Jal Shakti Abhiyan 'Catch the Rain' was also screened. Chouhan thanked the Central Government for selecting Bhopal for discussion on an important topic like Water Vision @ 2047 and said that Bhopal has historically been a unique example of water management. The big lake built by Raja Bhoj in the 10th Century is still supplying drinking water to one-third of Bhopal. There are 2,000 water structures in the Bundelkhand region. It is a good fortune for all of us that we got the leadership of Prime Minister Modi and we are also getting his guidance for water conservation and management. Chouhan said that activities are being conducted with sensitivity for water conservation and its economical use in Madhya Pradesh. Till the year 2003-04, the irrigation potential in the State was 7.5 lakh hectare, which has now increased to 43 lakh hectare. Our target is to have irrigation potential in 65 lakh hectare area. Pipeline and sprinkler irrigation facilities are being provided for economical use of water. Jalabhishek Abhiyan was started in the year 2007 in the State. To encourage people's participation in water management, Jal Sansad, Jal Sammelan and village Jal Yatras were held in all the districts. A large number of Bori Bandhans, check dams, stop dams were constructed in the Jalabhishek Abhiyan. The work of river rejuvenation is also being encouraged. Plantation of trees on both sides of the river was taken as a campaign in the Narmada Seva Yatra. Works worth Rs 50,000 crore are going on in the state under Jal-Jeevan Mission, with this it will be possible to provide tap water to 46% of the houses. Yet, a water policy will be brought in the state in the next one or two months. Chouhan said that construction of farm ponds was encouraged under Balram Tal Yojana. Along with this, the construction of stop dams has helped in recharging wells in many areas of the State. Farmers are being encouraged to take crops grown in less water in the State. Chouhan told Central Government and ministers of various states who came for Water Vision @ 2047 that special campaigns are being conducted in the state for tree plantation, energy-literacy, saving water, cleanliness and women empowerment.
Chouhan said that trees and water go hand in hand. I myself have taken a pledge to plant saplings everyday. According to this resolution, I plant three saplings every day. Chief Minister Shri Chouhan invited all the participants of Water Vision @ 2047 to plant saplings on January 6th. Chief Minister Shri Chouhan said that this plantation will give the message of water conservation to the whole country and will keep the memories of Water Vision @ 2047 intact. Union Jal Shakti Minister Shri Shekhawat thanked Chief Minister Shri Chouhan for giving consent and providing co-operation for organising Water Vision @ 2047 in Bhopal. Central Minister Shri Shekhawat said that India is the fastest growing economy in the world. Our country is moving towards becoming a developed country. In view of the challenge of rapid urbanisation and pollution, it is necessary to prepare action plans for holistic water management at the micro level. It is also necessary to increase the storage capacity of water in the country. This will be possible by encouraging the construction of small structures and conserving underground water. The two-day event will have sessions on five themes – water scarcity– water surplus and water conservation in hilly areas, water reuse, water governance, resilient water infrastructure and water quality to meet the challenge of climate change.