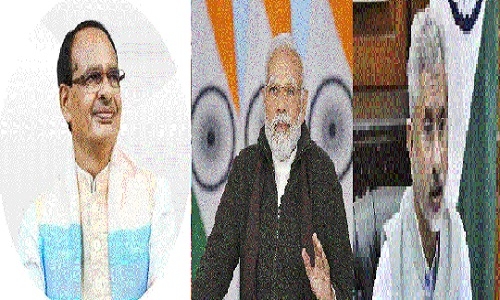 By Bhavana 'Aparajita'
Shukla
The 17th edition of Indian global family meet officially known as Pravasi Bharatiya Diwas (PBD) convention will begin with 'Youth Pravasi Bharatiya Divas' on January 8 at Cleanest City of the country, Indore. The theme of this year's programme will be Diaspora: Reliable partners for India's progress in Amrit Kaal'.
Inaugural session will be marked by the keynote address of Prime Minister Narendra Modi and inauguration of PBD Exhibition by the Prime Minister on theme 'Azadi Ka Amrit Mahotsav'- Contribution of Diaspora in Indian Freedom Struggle. Special guest of honour, Chandrikapersad Santokhi, President of the Republic of Suriname, special address by chief guest of PBD, Dr Mohamed Irfaan Ali, President of the Co-operative Republic of Guyana, will address the event. On the last day ie January 10, the Conferment of Pravasi Bharatiya Samman Awards 2023 by the Honourable President of India will take place. The event is receiving excellent response at its initial phase itself. Convention has so far seen an enthusiastic response from the diaspora. According to the official statement more than 3,200 delegates from 66 countries have registered so far to be a part of the event. On January 8, 'Youth Pravasi Bharatiya Divas', Chief Minister Shivraj Singh Chouhan, will address the event. Anurag Singh Thakur, Minister of Youth Affairs and Sports, will chair the first plenary session on Role of Diaspora Youth in Innovations and New Technologies. Australian Member of Parliament and guest of honour, Zaneta Mascarenhas, will deliver a special address.
In this three-day event, five plenary sessions and a digital exhibition will be organised. The exhibition will be on the contribution of diaspora freedom fighters in laying the foundation of our country. Subjects of sessions will be- Healthcare Ecosystem, Soft Power of India- Craft, Cuisine & Creativity, mobility of Indian workforce, Women Diaspora Entrepreneurs. Event to be hosted in the Cleanest City of India.
It will be Zero Waste Event as officers touted. Postal Stamp 'Surakshit Jaayen (Go Safe), Prashikshit Jaayen will be launched on the Day, dedicated to the Youth Pravasis.
The convention will conclude after the valedictory address by President of India Droupadi Murmu and Conferment of Pravasi Bharatiya Samman Awards 2023.Valedictory and inaugural sessions will be addressed by Dr S Jaishankar, Minister for External Affairs, Chief Minister Shivraj Singh Chouhan.
Visitors will also have Shri Mahakaleshawar temple's darshan during their visit to the State and arrangements are being made to give them an experience of Bhasma Aarti. They will also have an opportunity to meet previous year's PBSA Awardees. And as complimentary, access to State Archaeological Monuments and Museum will be available for them.
Possibility of State Government will host the Sessions on Textile and Garments: Weaving the growth story of MP, IT/ITeS sector: Coding the Stories of Change in MP, Healthcare and Pharmaceuticals investments: Reshaping the Global Health Value Chain, Invest in Madhya Pradesh, the Food Basket. Start-up Ecosystem: Unleashing the strength of Madhya Pradesh Tourism opportunities in the 'Heart of Incredible India' Plenary Sessions theme:
I- Role of Diaspora Youth in Innovations and New Technologies II- Role of Indian Diaspora in promoting Indian Healthcare Eco-system in Amrit Kaal: Vision @2047. It will be chaired by Dr Mansukh Mandaviya, Minister of Health & Family Welfare; Chemicals and Fertilisers. III - Leveraging the soft power of India- Goodwill through craft, cuisine & creativity. It will be Chaired by V Muraleedharan, Minister of State for External Affairs.
There will be speakers like Amitabh Kant and G20 Chief Co-ordinator Harsh Vardhan Shringla.
IV- Enabling global mobility of Indian workforce- Role of Indian Diaspora, it will be chaired by Dharmendra Pradhan, Minister of Education, Skill Development and Entrepreneurship
V- Harnessing the potential of women diaspora entrepreneurs towards an inclusive approach to nation building, it will be chaired by N Sitharaman, Minister of Finance.
Another pointer State Government has curate special programmes for overseas guests: Complementary entry of PBD delegates to all the State-run Archaeological Museums and Monuments in Madhya Pradesh.
Complimentary entry to all the National Parks of Madhya Pradesh. Free shuttle services made available from airport to hotel and from hotel to venue for the delegates. Complementary free shuttle services for Mahakal Darshan Ujjain and Mahakal Lok Corridor- Ujjain on January 10 and 11 by the State Government.