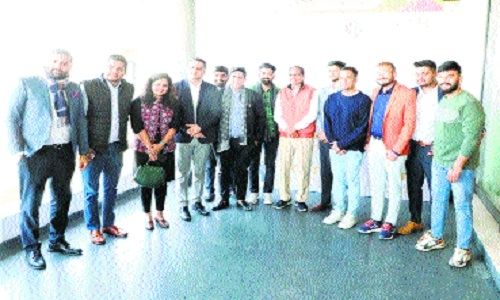 Staff Reporter
Chief Minister Shri Shivraj Singh Chouhan has said that the talent of the state's youth associated with start-ups will be used in the interest of the state. These successful entrepreneurs will prepare other youth like themselves to start their own businesses. The suggestions received from other youths, including successful youths associated with start-ups, will be the outline for formulating the youth policy of the state. The youth policy of the state will be well planned. Important suggestions will be incorporated before finalizing it. This policy was to be announced this month, but it will be brought out in the month of February.
Chief Minister Shri Chouhan said that youth are also enthusiastic about Pravasi Bharatiya Divas and Global Investors Summit. Youth are participating in these programmes in large numbers. The talents of the state will not be suppressed. GIS will have the task of preparing skilled human resources by assessing the potential investment in various sectors. Imparting training to the youth by industrial institutions will be considered. About 2600 start-ups are registered in the state. Also more than 40 incubators are working. The start-up policy of the state has brought about good results in 11 months. More than one thousand start-ups are being led by women. Assistance to start-ups has also been approved in the new policy.
Many youths have achieved success by using the beneficial provisions made available by the government on the strength of their hard work and talent. Chief Minister Shri Chouhan said that work to develop industrial parks in Jabalpur and Indore, increase co-operation of charitable institutions in the field of education, increase branding & export of state's special products and millets along with connecting farmers with natural farming progressively. Various measures will be implemented for the personality development of the youth. Chief Minister Shri Chouhan said that the IT park in Indore was closed about 15 years ago. With this, youth will get employment due to the construction of the super corridor and investment in various sectors in abundance. CM Shri Chouhan lends ear to suggestions of the youth Chief Minister Shri Chouhan today held discussion with many successful youths who are associated with start-ups in various fields, including Anubhav Dubey, Anand Nayak, Rahul Patidar of Chai-Sutta Bar, Tanutejas Saraswat of Kirana Shop, Narendra Sen of Rack Bank, Abhishek Dubey of Muskaan Dream, Mayank Pratap Singh and Aditi Chaurasia of Super Sourcing and Kunal of K. Star.
Chief Minister Shri Chouhan also interacted with Kunal, a successful businessman in California, on video call. Chief Minister Shri Chouhan carefully listened to the views and suggestions of these young entrepreneurs. Anubhav told that he had a new idea to sell tea and started Chai Sutta-Bar. His friend Rahul Patidar joined him. This idea was implemented in the form of serving traditional tea-coffee of India on the bar table. Both these friends from Satna, joined the start-up after completing their education from Indore. Tanutejas Saraswat told that he is running about one lakh small shops in 15 cities with a team of 1500 people from Shop Kirana. Similarly, Narendra Sen is providing services in the IT sector through Rack Bank. Through Muskaan Dream, Abhishek is working with one lakh children. Along with imparting digital knowledge to school children, they are also working to make teachers digitally literate. Super Sourcing has become the leading platform for start-ups across the country for hiring of tech workers. Similarly, Rajat and Mohit, the founders of Kimirica, have made a name for themselves as manufacturers and suppliers of accessories used in large hotels in India. All these youths are in the age group of 20-22 and 30-32. Young entrepreneurs gave innovative suggestions The youth associated with start-ups gave innovative suggestions during a discussion with Chief Minister Shri Chouhan. The youth told that they will participate in the Pravasi Bharatiya Divas programme and GIS. These events have created an atmosphere of enthusiasm among the youth. It is necessary to develop entrepreneurship among the youth. There should be a separate university for this. Chandigarh is such a university. Successful young entrepreneurs believe that subjects that can increase the spirit of entrepreneurship should be included in the college level education. Girl students should also get necessary guidance. Indore-like infrastructure can be made available to girl students coming from small towns and cities. Incubation centers should not be limited to cities, they should also be developed in villages. Rural youth should be linked with internship. Guidance should also be given to the students for selection of start-up according to their interest in class 11th and 12th. They should meet and interact with local businessmen and entrepreneurs during their studies. The youth should be skilled in how to interact and behave at the financial level. Young entrepreneurs said that it is necessary that skill parks should be opened at places other than Bhopal. Many youths of Madhya Pradesh are working in Hyderabad and Bangalore. If they get a favorable environment in Madhya Pradesh, they would like to stay here.
Children should be imparted training in industrial places. The concept of CM Rise Schools is commendable. Work should be done for the development of entrepreneurship in the social sector. The guidance of youth should be sought to solve basic problems of the country. It was also suggested that brand MP bags should reach every household. An initiative has been taken to sell goods useful to the farmers at grocery shops. Such efforts have been successful. In view of the increasing demand for organic food, its possibilities available in the state can be utilised. Shri Lokesh Sharma, Additional Chief Executive Officer of Atal Bihari Vajpayee Institute of Good Governance and Policy Analysis was in the discussion with the youth.