Will amend constitution for OBC reservation when Congress comes at Centre: Kamal Nath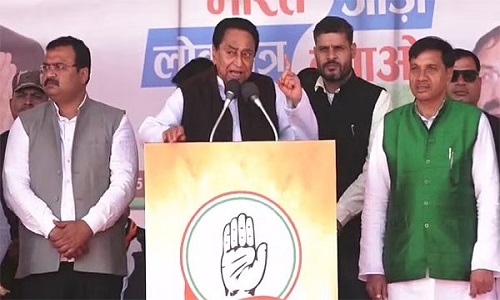 SATNA,
Former Madhya Pradesh Chief Minister and PCC chief Kamal Nath on Thursday said that his party would amend the Constitution for the benefit of the OBC community if it returns to power at the Centre.
While addressing an OBC rally in Satna district on Thursday, Congress veteran said, "I promise that whenever our government comes to power at the Centre, it will amend the Constitution to extend the benefit of reservation to the OBC community." Former MP CM also accused the ruling Bharatiya Janata Party (BJP) of cheating the OBCs in the state. "When I was the Chief Minister, I committed to giving 27 per cent reservations to OBC. What sin do I commit to provide reservation? But the Bharatiya Janata Party (BJP)'s intention was bad, they dragged the matter into the court."
Notably, OBCs were given 14% reservation in the state.
"After 15 years the Congress government was back in power in the state. I became the Chief Minister of the state and we have given the introduction of our intention and policy," Nath added.
"Our great leaders followed the constitution of the country and took it forward, but today the culture of our country is in danger. You (people) have to decide whether we want to follow the path of Prime Minister Narendra Modi or we want to follow the path of our country's culture. The culture of our country is to connect," Nath added.
Slamming, Shivraj Singh Chouhan's government, Nath said that he has made more than 20,000 announcements and accused his government of committing a scam in the name of the "smart city" project."It is not a smart city (project), but a smart scam. Chouhan himself has said he is a machine of making announcements," he said.
On the other hand, State Home Minister Narottam Mishra targeted Kamal Nath over his remark on the OBC reservation. Mishra on Friday said, "Nath is running a Hath Jodo Yatra (hand joining) in the state but veteran Congress leader Ajay Singh was not called in Vindhya region during his program and similarly, Arun Yadav was not called in Nimar region." "Congress MP Rahul Gandhi is taking out Bharat Jodo Yatra while Kamal Nath is taking out Humiliation Yatra in Madhya Pradesh," Mishra added.