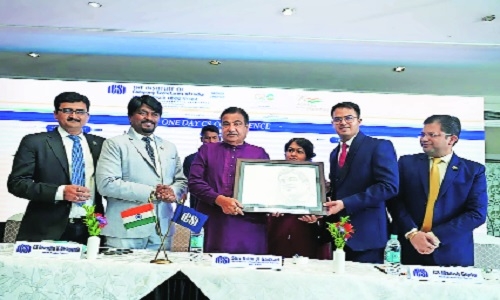 Business Bureau
Union Minister for Road Transport and Highways Nitin Gadkari on Saturday said that the Company Secretaries are backbone of corporate India. He also said that Company Secretaries play a vital role in the economic growth of the country. Gadkari was speaking at the inaugural session of the conference on 'Corporate Laws and improvisation' organised here by the Nagpur Chapter of Institute of Company Secretaries of India (ICSI) at Hotel Tuli Imperial, Nagpur.
CS Devendra Deshpande, President, ICSI; CS Manish Gupta, Vice President; CS Rajesh Tarpara, Chairman of WIRC of ICSI were the guests of honor. The conference was organised by the Nagpur Chapter of ICSI led by CS Rohan Mehra, Chairman. CS Rashmi Mitkary, Secretary, CS Bhavesh Thadani, Treasurer, CS Aalhad Mahabal; CS Shantanu Jog, Past Chairman, CS Deepti Joshi Past Chairperson and CS Khusboo Pasari, Immediate Past Chairperson, were also present.
CS Rahul Thakwani and CS Ishita Agrawal conducted the proceedings of the event. CS Khushal Bajaj, CS Mohit Batra, CS Jay Sodani, Sudhakar Aisalwaru, Deepak Bhosale, Dinesh Borikar were part of the organising team. The seminar was graced by more than 200 Company Secretaries.
The topics covered under technical sessions were 'Listed Space – Growth through transparency' by CS B Ranganathan General Counsel, Emcure Pharmaceuticals Ltd. Mumbai. Section 185, 186 and 188 i.e. related with loans to directors and related party transactions under Companies Act 2013 was delivered by CS Makarand Joshi, Practising Company Secretary Mumbai. Leveraging Branding and digital Marketing to grow your professional practice was discussed by Dr Sanjay Arora, Nagpur.