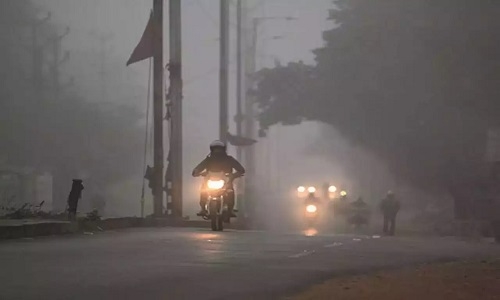 Staff Reporter
Due to cold winds coming from Northern parts of country, biting cold conditions continued across Madhya Pradesh.
On Sunday, six cities of Madhya Pradesh remained in top nine coldest cities in India. Rewa recorded minimum temperature as 2.4 degree Celsius, Jabalpur 3.6 degree Celsius, Khajuraho 3.6 degree Celsius, Gwalior 4.0 degree Celsius, Satna 4.0 degree Celsius and Mandla 4.2 degree Celsius. According to weather department Jabalpur and Balaghat witnessed severe cold while Bhopal, Betul, Datia, Chatarpur, Rewa, Sagar, Satna, Seoni, Gwalior and Umaria witnessed cold day.
Lowest minimum temperature was recorded as 1.5 degree Celsius in Umaria. Minimum temperature in state capital Bhopal was recorded as 6.2 degree Celsius which is 4.5 degree below normal temperature. Weather department said that for next two days, there will be no major changes in mercury. A day before on Saturday, Bhopal recorded minimum temperature as 7.9 degree Celsius. Within one day temperature dipped by 1.7 degree. This was lowest temperature of Bhopal in this season.
Weather Department said that strong system is being formed on January 10 that would be resulted into extreme hail storm in Himalaya region. Till January 13, there will be heavy rainfall in northern parts of country. This would have worse impact on climate of Madhya Pradesh and various parts of state will be facing severe cold.
Biting cold is paralyzing the normal life in Madhya Pradesh. Weather Department has forecast maximum and minimum temperature in Bhopal would be 23 degree Celsius and 8 degree Celsius on January 9. Weather department said that there will be no respite from the biting cold conditions in state for next few days. Leaving 7 districts, all the 45 districts of state recorded minimum temperature below 10 degree Celsius.
Weather officials said that due to strong moisture in air coming from West, hail storm was recorded around Himalaya. Due to this hail storm, plain areas have moisturized air and cold conditions. Apart from Bhopal, dense fog was there in Raisen, Guna, Umaria, Damoh, Khajuraho, Jabalpur and Sagar. Visibility in these areas remained from 50 meter to 500 meter.
Officials said that impact of cyclonic circulation over Bay of Bengal would clear by January 8 and cold northerly winds will start blowing over the state. According to Meteorology Department, weather would be changing in state in next 24 hours as there are chances of hail storm in Jabalpur, Bhopal and nearby areas. Officials of Meteorology department said that there are chances of rainfall in eastern part of MP and if there will be strong system, temperature will be declining by 3 to 4 points.