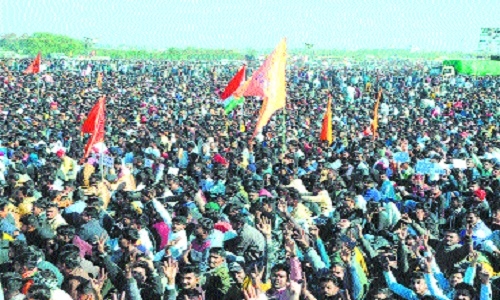 Staff Reporter
National Rajput Karni Sena's Maha Andolan is continuing on Sunday at Bhopal's Jamboree Maidan in support of their 21 demands including reservation on economic basis, re-review of caste reservation and protest against Atrocity Act. After the whole day's demonstration, the agitators continued their protest with the help of mobile torches even at night.
Till Sunday evening, more than three lakh people have gathered in the Mahasammelan. 5 workers including Jeevan Singh Sherpur, head of the Karni Sena family, are sitting on hunger strike. He said that our agitation will continue till the demands are met. Some activists said that this movement will be like the farmer's movement of Delhi.
Jeevan Singh has said that only 5 people will sit on the hunger strike. He told that whoever wants to go can leave happily, but he has appealed not to do any kind of violence. He said that the movement will continue. Due to the protest of Karni Sena, there was traffic jams on the roads around BHEL. Seeing the huge footfall, the traffic police diverted the traffic on the roads leading towards the Jamboree ground.
Karni Sena chief Jeevan Singh Sherpur warned that the government should end caste reservation, otherwise we will not refrain from entering into politics. We are agitating to reform the system. The upper castes and backward classes are with us. Together we will turn the tables. Karni Sena is agitating for reservation on economic basis, re-review of caste reservation and protest against misuse of Atrocity Act, among other demands. Jeevan Singh Sherpur started a hunger strike for the demands of the organization. He gave an ultimatum that if the government did not accept the demands, he would go out for the gherao of the assembly. However, on the appeal of the administration, he postponed this decision. Karni Sena family and Sarva Samaj decided not to make gherao of the assembly. However, security has been beefed up there after the assembly gherao warning.
People from neighboring states including Rajasthan, Uttar Pradesh, Maharashtra and Chhattisgarh have reached the Mahasammelan, including many districts including Indore, Ratlam, Mandsaur and this process is continuing. The administration says that a one-day demonstration is allowed. The protesters will return by evening. At the same time, the people who are protesting say that they will protest here till their demands are met. However, Jeevan Singh Sherpur has said that we will not prolong the movement.
Additional DCP Ramsnehi Mishra arrived to talk to the delegation of Karni Sena and told Sherpur that the delegation of the state government is ready to come for talks. On this, Sherpur said that we do not want assurance, we want order in writing. He said that the ministers who can fulfill their demands and implement them should visit here or Chief Minister Shivraj Singh himself has to come. According to Sherpur, We don't want assurances, we want action.