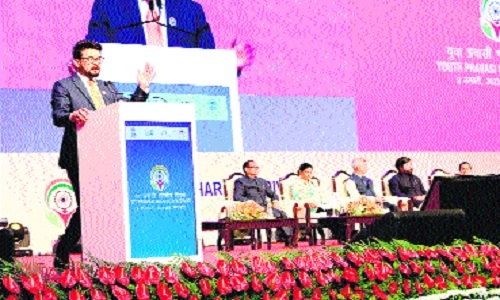 Staff Reporter
Union Youth Affairs and Sports Minister Anurag Singh Thakur thanked Chief Minister Chouhan for his consent and co-operation in organising the Pravasi Bharatiya Sammelan. Union Minister Thakur said that Prime Minister Narendra Modi has given the idea of 'One Earth, One Family, One Future'. The entire nation loves and respects the NRIs and is proud of their achievements. The work of realising the idea of Ek Bharat Shreshtha Bharat is going on under the leadership of Prime Minister Modi. We have joined the world's 5 largest economies by leaving behind those who ruled us for 200 years. Indian youths have made India the third largest start-up nation in the world. Union Minister Thakur said that young NRIs are working hard to fulfill their dreams but India resides in their heart. He invited the youth to implement their ideas and innovations in India.
On the first day of the 17th Pravasi Diwas, a panel discussion on 'Role of Diaspora Youth in Innovations and New Technologies' took place in the Plenary Session chaired by the Union Minister for Youth Affairs and Sports Anurag Singh Thakur. Minister Thakur said that the Yuva Pravasi Sammelan is not only an effort to connect them tothe roots but also it explores new possibilities. He said that the entire country has given a place to the NRIsin their heart. We respect their achievements and passion to work with dedication towards the country.
Union Minister Thakur said that Indian youths have such enthusiasm and passion that they will always make India proud whichever part of the world they go to. The people of the overseas Indian diaspora community are successfully playing an important and connecting role in this direction. He said that India is continuously moving ahead under the leadership of Prime Minister Narendra Modi. India is the power house of the whole world. This success is success of all of you. He said that India is being revitalised. Thakur said that even after being miles away, you live in our hearts. He said that birthday of Swami Vivekananda, will be celebrated on January 12 in the entire country. When Swami Vivekananda made the world his own by his speech in America wearing Swadeshi (indigenous) clothes, he showed a new direction to the youth. Similarly, all of you also bring out the Vivekananda hidden within you, recognise yourselves and help India move forward on the world stage. Shri Thakur called upon the young NRIs to spend some time in India, understand the challenges and help the country move forward through technology and science.
In the session, Amit Sudani, Founder of Travel App, said that every youth wants to do something new. He said that I am happy that Madhya Pradesh Government has given us such a platform, where we can bring our talent in front of the world. In the past it was said that the young talents are moving tothe West. Now there is a change in the winds, the people of the West are now getting attracted towards the East (Asia). Sudani said that the most trained youth are present in India.
Bharat Sharma, founder of Ireland's Bharat Sharma.com said that we should be proud that Brand India is ruling in the world. Youths are making Brand India even better by influencing innovations and new technologies. Renowned companies like Google, MasterCard are being operated by Indians today. All these are the achievement of Indians. He said that the youths should always be determined to do distinctive work. If you do everything, you will not be able to achieve excellence. Hard work and out-of-the-box thinking is the key to success, not jugaad (makeshift) and copy paste. Connect with people and innovate with confidence.
Rahul Jain, founder of Pitch Payments from Mauritius, said that there is a huge demand for new technologies globally and Indian youths have that talent in abundance. Indian is working to advance its culture. The nearly 34 million people living abroad have many success stories to inspire.
Simran Kaur from UK, who works in the field of providing economic literacy to women, said that making women financially literate is the best solution to end gender inequality. Economic independence empowers women. He said that the lack of economic independence creates adverse situations for the common woman many times.
Ritesh Agarwal, Founder of OYO Hotels, said that by participating in this Amrit Kaal of India, you can fulfill your dreams. Overseas Indians will prove to be most helpful in this. He said that start-ups do not only earn profits commercially, but also provide employment to thousands of youths. There is a lot of potential in the manufacturing and service sectors in India. Shri Agarwal urged the diaspora Indians to help the Indian youth's positive approach to work and assist them in moving forward. Various questions were also asked to the panelists on the occasion.