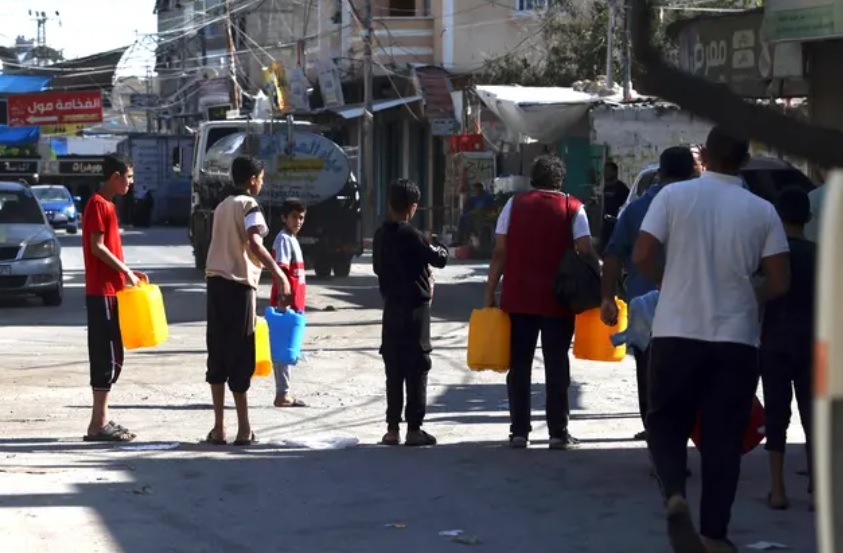 RAFAH (Gaza Strip) :
THE Israeli military says Hamas and other Palestinian militants are holding 199 hostages in Gaza, higher than previous estimates. Rear Adm. Daniel Hagari, a military spokesman, said on Monday that the families have been notified. He did not specify whether that number includes foreigners, or say who is holding them. Meanwhile, UN chief Antonio Guterres has called on Hamas to immediately release all hostages without conditions and urged Israel to allow rapid and unimpeded access to humanitarian aid for civilians in the Gaza Strip. The Hamas-ruled Gaza Strip, home to about 2.3 million people, is under a total blockade.
Israel has cut off all supplies of food, water and fuel in the wake of ongoing hostilities with Palestinian militant group Hamas. On Monday, Israel's Defence Minister Yoav Gallant said it would impose a "complete siege" on the territory. "In this dramatic moment, as we are on the verge of the abyss in the Middle East, it is my duty as Secretary-General of the United Nations to make two strong humanitarian appeals," Guterres said here in a statement on Sunday. The UN Secretary-General appealed to Hamas that it must release all hostages immediately without conditions. "To Israel, rapid and unimpeded access for humanitarian aid must be granted for humanitarian supplies and workers for the sake of the civilians in Gaza," Guterres said. "Each one of these two objectives is valid in themselves.
They should not become bargaining chips and they must be implemented because it is the right thing to do," he said. Israeli air strikes hit Hamas operational facilities: Dozens of operational headquarters and mortar bomb launching positions in the Gaza Strip belonging to Hamas have been destroyed in air strikes, the Israel Defence Forces announced. Among the sites destroyed were the military headquarters of Ali Kachi, a commander of the terror organisation's Najaba Force. A number of terrorists inside the compound were also killed. Kachi was killed in a separate strike on Saturday.