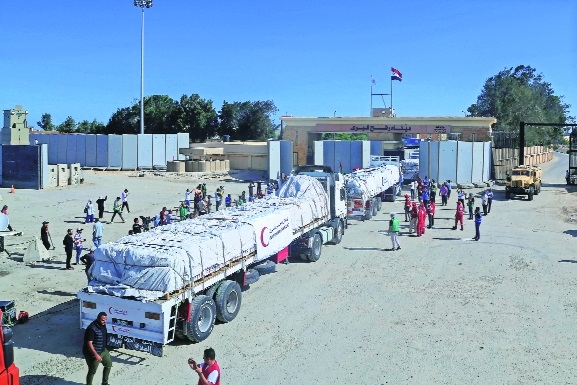 Trucks of Egyptian Red Crecent carrying humanitarian aid for the Gaza Strip cross the Rafah border gate in Rafah, Egypt on Saturday. (AP/PTI)
By Najib Jobain, Samy Magdy and Joseph Krauss
RAFAH (Gaza Strip),
Hamas' reprehensible assault 2 weeks ago can never justify collective punishment of Palestinians: UN chief Guterres
THE border crossing between Egypt and Gaza opened on Saturday to let a trickle of desperately needed aid into the besieged Palestinian territory for the first time since Israel sealed it off in the wake of Hamas' bloody rampage two weeks ago. Gaza's 2.3 million Palestinians, half of whom have fled their homes, are rationing food and drinking dirty water. Hospitals say they are running low on medical supplies and fuel for emergency generators amid a territory-wide power blackout. Israel is still launching waves of airstrikes across Gaza as Palestinian militants fire rocket barrages into Israel.
The opening came after more than a week of high-level diplomacy by various mediators, including visits to the region by US President Joe Biden and UN Secretary-General Antonio Guterres. Israel had insisted that nothing would enter Gaza until some 200 people captured by Hamas were freed, and the Palestinian side of the crossing had been shut down by Israeli airstrikes. Egypt's state-owned 'Al-Qahera' news, which is close to security agencies, said just 20 trucks had crossed into Gaza on Saturday, out of more than 200 trucks carrying roughly 3,000 tonnes of aid that have been positioned near the crossing for days. Hundreds of foreign passport holders also waited to cross from Gaza to Egypt to escape the conflict. The UN said life-saving supplies would be delivered to the Palestinian Red Crescent medical service. But Cindy McCain, the head of the UN's World Food Programme, said the aid was insufficient.
"The situation is catastrophic in Gaza," she said. "We need many, many, many more trucks and a continual flow of aid." Before the war, some 400 trucks were entering Gaza each day, McCain said. The Hamas-run Government in Gaza also said the limited convoy "will not be able to change the humanitarian catastrophe," calling for a secure corridor operating around the clock. Rear Admiral Daniel Hagari, an Israeli military spokesman, said, "the humanitarian situation in Gaza is under control." He said the aid would be delivered only to southern Gaza, where the Army has ordered people to relocate, adding that no fuel would enter the territory.
The opening came hours after Hamas released an American woman and her teenage daughter, the first captives to be freed after the militant group's October 7 incursion into Israel. It was not immediately clear if there was any connection between the two. Intense airstrikes were reported across Gaza overnight and into Saturday. The Hamas-run Health Ministry said 345 people were killed in Gaza in the last 24 hours, and that seven hospitals are out of service after being damaged in strikes or running out of fuel. The Hamas-run Housing Ministry said at least 30 per cent of all homes in Gaza have been destroyed or heavily damaged in the war. That figure does not include the destruction of entire neighbourhoods, which the UN refugee agency now describes as "inaccessible mounds of rubble."