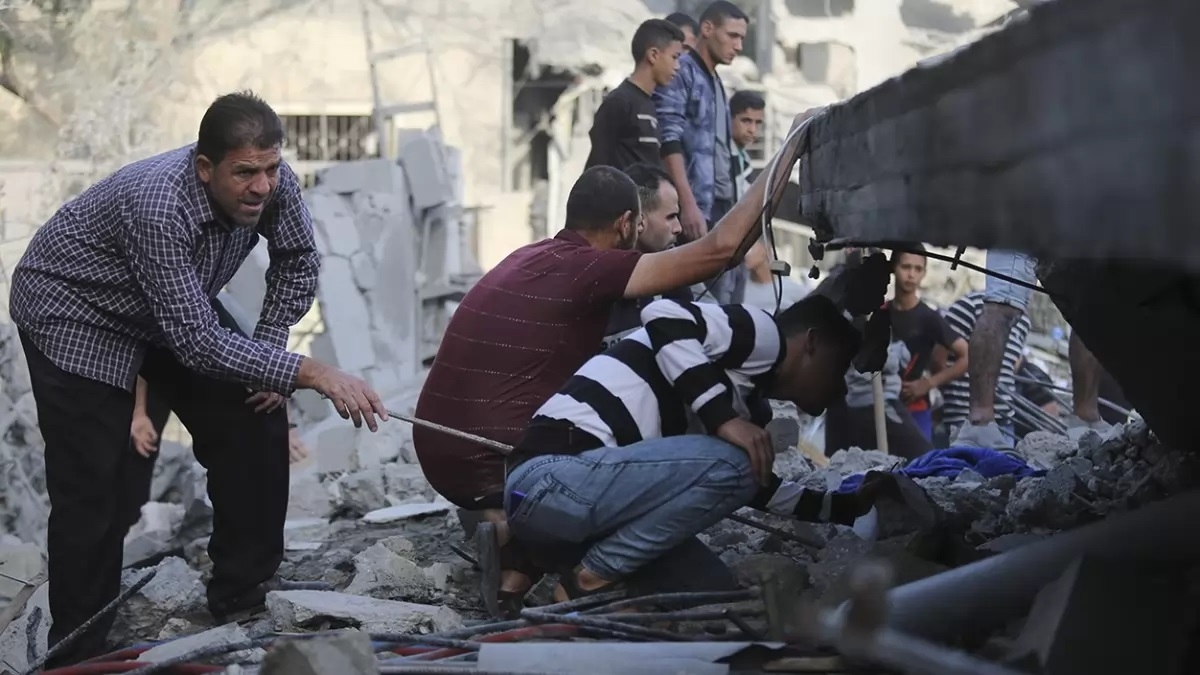 RAFAH :
ISRAELI warplanes struck targets across Gaza overnight and into Sunday, as well as two airports in Syria and a mosque in the occupied West Bank allegedly used by militants, as the two-week-old war with Hamas threatened to spiral into a broader conflict. Israel has traded fire with Lebanon's Hezbollah militant group on a near-daily basis since the war began, and tensions are soaring in the Israeli-occupied West Bank, where Israeli forces have battled militants in refugee camps and carried out two airstrikes in recent days. For days, Israel has seemed to be on the verge of launching a ground offensive in Gaza as part of its response to Hamas' deadly October 7 rampage.
Tanks and tens of thousands of troops have massed at the border, and Israeli leaders have spoken of an undefined next stage in operations. But the military acknowledges there are still hundreds of thousands of Palestinian civilians in northern Gaza despite a sweeping evacuation order, which would complicate any ground attack. And the risk of triggering a broader war with Hamas' allies in Lebanon and Syria might also give them pause. On Saturday, 20 trucks of aid were allowed to enter Gaza from Egypt through the Rafah crossing, the first time anything has gone into the territory since Israel imposed a complete siege two weeks ago. Aid workers said it was far too little to address the spiralling humanitarian crisis in Gaza, where half the territory's 2.3 million people have fled their homes. Hospitals packed with patients and displaced people are running low on medical supplies and fuel for generators, forcing doctors to perform surgeries with sewing needles, using kitchen vinegar as disinfectant, and without anaesthesia. Palestinians sheltering in UN-run schools and tent camps are running low on food and drinking dirty water.
The territory's sole power plant shut down over a week ago, causing a territory-wide blackout and crippling water and sanitation systems. The UN humanitarian agency said cases of chicken pox, scabies and diarrhea are on the rise because of the lack of clean water. Gaza's Hamas-run Interior Ministry reported heavy Israeli airstrikes across the territory overnight into Sunday, including southern areas where Israel had told Palestinians to seek refuge. The Ministry said that among the sites hit were homes and a cafe in the south where dozens of residents had sought shelter. Israel's military has said it is striking Hamas members and installations, but does not target civilians. Palestinian militants have continued daily rocket attacks, with Hamas saying it targeted Tel Aviv early on Sunday. Israeli Prime Minister Benjamin Netanyahu convened his Cabinet late on Saturday to discuss the expected ground invasion, Israeli media reported. A military spokesman, Rear Adm. Daniel Hagari, said Israel planned to step up airstrikes starting Saturday as preparation for the "next stages of the war." Israel has vowed to crush Hamas but has given few details about what it envisions for Gaza if it succeeds. Yifat Shasha-Biton, a Cabinet Minister, told Channel 13 TV there was broad consensus in the Government that there will have to be a "buffer zone" in Gaza to keep Palestinians away from the border.