It's not only our right,asserts Israel.. it's our duty to destroy Hamas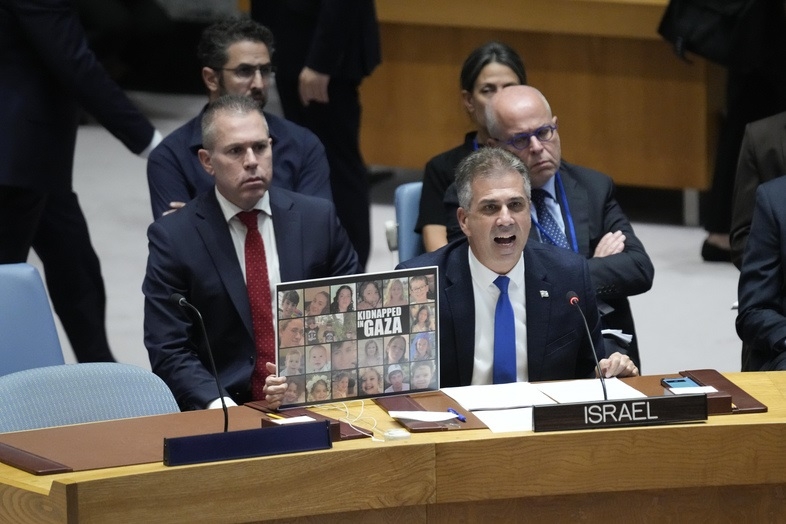 Israeli Foreign Minister Eli Cohen speaks during a UN Security Council meeting on Tuesday. (AP/PTI)
RAFAH (Gaza Strip),
"Tell me, what is a proportionate response for killing of babies, for rape (of) women and burn them, for beheading a child?" asks Cohen while dismissing UN call for ceasefire
ISRAELI Foreign Minister Eli Cohen told the UN Security Council that the proportionate response to the October 7 attack is "a total destruction to the last one" of the militants. "It is not only Israel's right to destroy Hamas. It's our duty," he said. Cohen also dismissed calls for "proportionality" in the country's response to Hamas' surprise attacks during the UN meeting for ceasefire. "Tell me, what is a proportionate response for killing of babies, for rape (of) women and burn them, for beheading a child?" Cohen asked. "How can you agree to a cease-fire with someone who swore to kill and destroy your own existence?" Cohen called the October 7 attacks "a wake-up call for the entire free world" against extremism, and he urged "the civilised world to stand united behind Israel to defeat Hamas." And he warned that today it is Israel, and tomorrow Hamas and the attackers "will be at everyone's doorstep," starting with the West.
Cohen also accused Qatar of financing Hamas and said the fate of the more than 200 hostages taken from Israel, some of whose families came to the UN meeting, was in the hands of its emir. UN Secretary-General Antonio Guterres opened the monthly meeting on the decades-old Israeli-Palestinian conflict — which has turned into a major event with ministers from the war's key parties and a dozen other countries flying to New York — warning that "the situation in the Middle East is growing more dire by the hour." Guterres stressed that the rules of war must be obeyed. Palestinian Foreign Minister Riyad al-Maliki demanded an end to the Israeli attacks. "We are here today to stop the killing, to stop … the ongoing massacres being deliberately and systematically and savagely perpetrated by Israel, the occupying power, against the Palestinian civilian population," he said.
"Over 2 million Palestinians are on a survival mission every day, every night." Under international law, he said "it is our collective human duty to stop them." Al-Maliki warned that more attacks and killings and weapons and alliances won't make Israel safer: "Only peace will." Meanwhile, Israel said on Tuesday it had launched 400 airstrikes over the past day, killing Hamas commanders, hitting militants as they prepared to fire rockets into Israel and striking command centers and a Hamas tunnel shaft. Israel reported 320 strikes the day before. Israel's escalated airstrikes across the Gaza Strip crushed families in the rubble of residential buildings, as health officials said hundreds of Palestinians were killed in the past day and medical facilities were shut down because of bomb damage and lack of power. The massive air bombardment continued through the night as Israeli jets hit sites across Gaza, the Hamas-run Interior Ministry said. The soaring death toll from the bombardment is unprecedented in the decades-long Israeli-Palestinian conflict. It augurs an even greater loss of life in Gaza once Israeli forces backed by tanks and artillery launch an expected ground offensive aimed at crushing Hamas militants. Gaza's 2.3 million people have been running out of food, water and medicine since Israel sealed off the territory following the devastating Oct 7 attack by Hamas on towns in southern Israel.
The Gaza Health Ministry, which is run by Hamas, said Israeli airstrikes killed at least 704 people over the past day, mostly women and children. The Associated Press could not independently verify the death tolls cited by Hamas, which says it tallies figures from hospital directors. In Washington, White House National Security Council spokesman John Kirby told reporters that the US also could not verify that one-day death toll. "The Ministry of Health is run by Hamas, and I think that all needs to be factored into anything that they put out publicly." Across central and south Gaza, where Israel told civilians to take shelter, there were multiple scenes of rescuers pulling the dead and wounded out of large piles of rubble from collapsed buildings. Graphic photos and video shot by the AP showed rescuers unearthing bodies of children from multiple ruins.
A father knelt on the floor of the Al-Aqsa Hospital in Deir Al-Balah next to the bodies of three dead children cocooned in bloodied sheets. Later at the nearby morgue, workers prayed over 24 dead wrapped in body bags, several of them the size of small children. Buildings that collapsed on residents killed dozens at a time in several cases, witnesses said. Two families lost a total 47 members in a levelled home in Rafah, the Health Ministry said. A strike on a four-story building in Khan Younis killed at least 32 people, including 13 members of the Saqallah family, said Ammar al-Butta, a relative who survived the airstrike. He said there were about 100 people sheltering in the building, including many who had evacuated from Gaza City. "We thought that our area would be safe," he said. Another strike destroyed a bustling marketplace in the Nuseirat refugee camp in central Gaza, witnesses said. AP photos showed the floor of a vegetable shop covered with blood. In Gaza City, at least 19 people were killed when an airstrike hit the house of the Bahloul family, according to survivors, who said dozens more people remained buried. The legs of a dead woman and another person, both still half buried, dangled out of the wreckage where workers dug through the dirt, concrete and rebar.
The Health Ministry says more than 5,700 Palestinians have been killed in the war, including some 2,300 minors. The figure includes the disputed toll from an explosion at a hospital last week. The fighting has killed more than 1,400 people in Israel — mostly civilians slain during the initial Hamas attack, according to the Israeli government. As the death toll in Gaza spirals, and fuel supplies dwindle, the number of facilities able to deal with casualties is shrinking. More than half of primary health care facilities, and roughly 1 of every 3 hospitals, have stopped functioning, the World Health Organisation said. Overwhelmed hospital staff struggled to triage cases as constant waves of wounded were brought in. The Health Ministry said many wounded are laid on the ground without even simple medical intervention and others wait for days for surgeries because there are so many critical cases. While Israel has allowed a small number of trucks filled with aid to enter, it has barred deliveries of fuel to Gaza to keep it out of Hamas' hands. The UN said its operation distributing aid will halt Wednesday evening if it does not receive fuel. To make room for the dead, cemeteries have been forced to excavate and reuse old plots. Families have dug trenches to bury multiple bodies at a time.
"Bodies pour in by the hundreds every day. We use every empty inch in the cemeteries," said Abdel Rahman Mohamed, a volunteer who helps transfer bodies to Khan Younis' main cemetery. Israel says it does not target civilians and that Hamas militants are using them as cover for their attacks. Palestinian militants have fired over 7,000 rockets at Israel since the start of the war, according to Israel, and Hamas said it fired a fresh barrage on Tuesday. On Monday, Hamas released two elderly Israeli women who were among the roughly 220 people Israel says were taken hostage during the Oct. 7 attack and forced into Gaza. Appearing weak in a wheelchair and speaking softly, 85-year-old Yocheved Lifshitz told reporters Tuesday that the militants beat her with sticks, bruising her ribs and making it hard to breathe as they kidnapped her.
They drove her into Gaza, then forced her to walk several kilometers (miles) on wet ground to reach a network of tunnels that looked like a spider web, she said. Once there, she said, she was treated well, fed and given medical care. Lifshitz and 79-year-old Nurit Cooper were freed days after an American woman and her teenage daughter were released. The Israeli military dropped leaflets in Gaza asking Palestinians to reveal information on the hostages' whereabouts. In exchange, the military promised a reward and protection for the informant's home. Iranian-backed fighters around the region are warning of possible escalation, including the targeting of US forces deployed in the Mideast, if a ground offensive is launched. Israel and Hezbollah have traded fire almost daily across the Israel-Lebanon border.