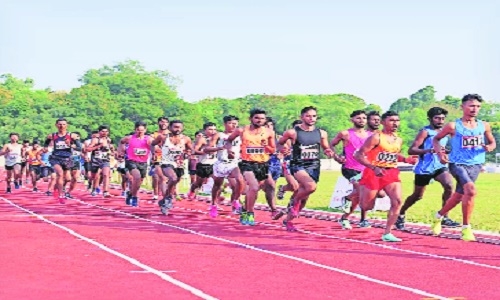 Sports Reporter
IT SEEMS that city's athletes are enjoying the newly-laid synthetic track as more new meet records were set on second day of the Inter-collegiate Annual Athletics Meet organised by Department of Physical Education, Rashtrasant Tukadoji Maharaj Nagpur University on Sunday. Meet saw new records in 5000m men, women's 4x400m relay and 400m hurdles. In the men's 5000m run Ranjan Yadav of PWS College, Nagpur recorded a time of 14:44.43 sec to erase the old mark of Shadab Pathan (Arts College, Sihora 14:51,01 sec) set in November 2022.
In women's 4x400m relay, the SB City College quartet of Bhuvneshwari Masram, Anjali Madavi, Sakshi Kayarkar and Jayshri Borikar rewrote record with a timing of 4.28.60 bettering SB City's own record of 4:33:71 made in Nov 2000. In the women's 400m hurdles, Neha Dhabale of Arunrao Kalode Mahavidyalaya set a new mark of 1:03:70 more than seven seconds better than the last record made by Bhaveshwari Masram of SB City (1:10:20 sec) in Nov 2022.
RESULTS
(Read as athlete, college, performance)
High jump (women): Vaishnavi Bahekar (S Chandra Mahila MV, Amgaon; 1.29m), Sanjana Singh (LAD College, 1.26m), Prachi Yadav (LAD College, 1.23m). 400m hurdle (women): Neha Dhabale, Bhuvneshwari Masram (SB City, 1:12:31), Sakshi Lonare (AD Bharsingi, 1:21:59). Discus throw (men): Jayant Warambhe (Nutan Adarsh Umred, 34.34), Lucky Negi (Saket College of Phy Edu, Gondia; 27.60m), Mohit Gupta (St Vincent Pallotti 27.27m). 400m hurdles (men): Prakash Chaudhari (Chintamani MV, 55.83s), Prajwal Dhandre (Arunrao Kalode, 58.16s), Aniket Jadhav (Arunrao Kalode 59.31s). High Jump (men): Pranav (Arts Sci, Pulgaon; 1.80m), Darsh (DNC, Nagpur; 1.70m), Dhananjay (SN MR, Tumsar; 1.67m). 4x400m relay (women): Bhuvneshwari Masram, Anjali Madavi Sakshi Kayarkar, Jayshri Borikar; Manisha, Neha, Saniya, Shilpa (JCPE, Nagpur; 4.51.40), Divya Akare, Ayushi Gaure, Arshika Tumsare, Pradnya Gedam (Mahila MV, Nagpur; 5.10.10). Discus throw (women): Priya (JCPE, 36.62m), Ayesha Nasim (SK Porwal, Kamptee; 29.75m), Nandini Thapa (IDCPE, 25.65m). 5000m (men): Ranjan Yadav, Vikas (AD Bharsingi, 15:47.45 sec), Gaurav Khodatkar (SB City 16:04.79). 5000m (women): Mitali Bhoyar (Mohta Science, Nagpur; 17:24.48), Bhagyashree Mohre (Priyadarshini Bhagwati 17:57.69), Tejaswini Lamkane (PGTDE of Phy Edu, 18:23.41). 4x400m relay (men): Nitesh, Sandip, Vijayrohit, Aniket (JCPE, Nagpur), Saket College of Phy Edu, Puja Phy Edu College.