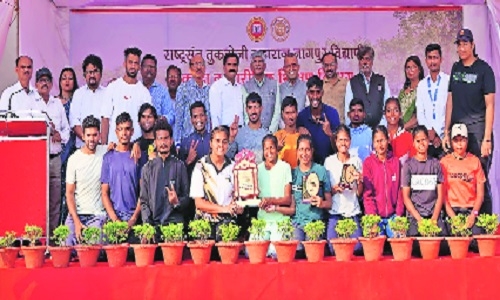 Sports Reporter
JYOTIBA College of Physical Education emerged overall champions in the Inter-College Athletics Championship organised by the Department of Sports and Physical Education, Rashtrasant Tukadoji Maharaj Nagpur University on Monday. JCPE earned 88 points to win the crown. They were followed by SB City College (80) and Gondia's Saket College of Physical Education (60) at second and third spots respectively In the women's section, JCPE earned highest 46 points. SB City (31) and Samarth Vidyalaya, Lakhni (24) secured second and third place
respectively.
In the men's section, with 41 points SB City won the title. They were followed by Saket Mahavidyalaya (38) and JCPE (33). In the women's section, Mitali Bhoyar of Mohota Science and Riya Dohtare of Chakrapani Vidyalaya were declared as best athletes. In the men's section, the honour went to Saurabh Tiwari. Swati Uikey of Arunrao Kalode Mahavidyalaya was declared best jumper while in the men's section, Aman Shendre got the honours.
University Finance Officer Harish Paliwal, PWS College Principal Yashwant Patil were guests of the prize distribution function. Member of Board of Physical Education of RTM Nagpur University Dr Dhananjay Welukar presided over.
Dr Sharad Suryawanshi made introductory remarks. Dr Sonali Shirbhate conducted the proceedings while
Dr Aditya Soni proposed a vote of thanks.