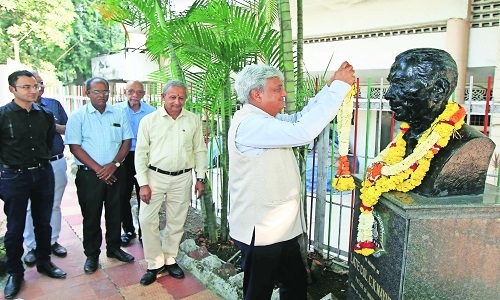 THE Vidarbha Cricket Association (VCA) marked the 128th birth anniversary of India's legendary cricketer Col CK Nayudu by garlanding his bronze bust at its Civil Lines stadium complex on Tuesday. VCA President, Justice (Retd) Vinay Deshpande paid floral tributes to India's first Test captain, who was born on this day in 1895. He was joined by Guest of Honour Group Captain Dinkar Deshpande, a former Vidarbha player who played against Nayudu. Other VCA office-bearers —Vice-President Dr Avinash Deshmukh, Secretary Sanjay Badkas, Joint-Secretary Chandrakant Manke and Treasurer CA Arjun Phatak also paid homage to the Nagpur-born legend.
Recalling his association with CK Nayudu, Deshpande said: "I played against him in the Ranji Trophy when he was nearing the end of his long career. Even at that stage, the great man was fiercely competitive on the ground. His brand of aggressive batting rubbed off on juniors like us, who grew up idolising him." Speaking on the occasion, Deshpande recalled Nayudu's exploits with the bat, and hailed him as a national hero who inspired several generations of cricketers to take up the sport.
Deshpande said he was thrilled to note that Nayudu featured in several First-Class matches at the Civil Lines ground from 1919 to 1945 and the records have been duly preserved by the VCA. In his First-Class career spanning over four decades, Cottari Kanakaiya Nayudu amassed 11,825 runs in 207 matches, hitting 26 centuries. Popularly known as 'Colonel' or 'CK', Nayudu was 36 years old when he led the Indian team in its maiden Test against England at Lord's in 1932. Nayudu was the first Indian cricketer to be conferred with Padma Bhushan in 1956.