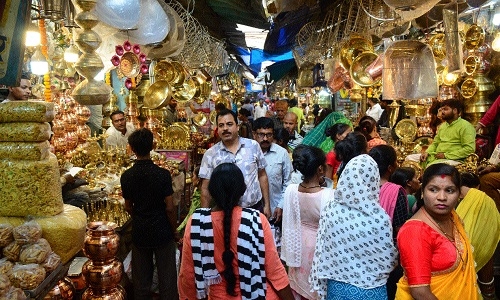 Business Reporter
RAIPUR,
DHANTERAS, an auspicious occasion for a pre-Diwali shopping spree witnessed bubbling Raipurians hopping around Jaistambh Chowk, heart of the capital city which was the most happening and overcrowded shopping destination on Friday. A sea of festive-enthusiast crowd thronged the market places causing chock-o-block scenario all the ways in and out of the city. With customers seen in upbeat mood, they were equally reciprocated with fully decked-up market, a scenario that pumped in adrenalin shot to their frensied buying spirits. Irrespective of sectors and segments, the customers opened their hearts and wallets to mark auspicious as well as full-fledged buying on the occasion of Dhanteras celebration. An equally poised and predetermined market also offered 'best of the best' to woo the customers with everything they had to offer in value for their money. Be it Sadar Bazaar, Malviya Road, MG Road, Pandri Cloth Market or any other commercial establishments, every major showroom and even the pettiest shop had their spaced filled with customers' footfall.
Though strict guidelines under Model Code of Conduct slowed down the business activities in Raipur, the festivities brought the much needed momentum in the local business over taking the gross sale figures of previous years. On Dhanteras day, the year-long plan to buy new products from jewellries, electronics, automobiles, real estate, readymade garments and branded as well as general use utensils was at peak. However, according to the market pundits, segments that had the advantage of on-the-spot financing option through finance companies recorded bulk business. The sector mainly automobiles and electronics where finance and installment facility had an upper hand during the auspicious day of festive shopping recorded better sales. According to business pundits the gross sale of all sectors would have crossed Rs 1,200 crore in Raipur. Apart from heavy rush at 2/4-wheeler showrooms, customers in large number were also seen buying electronics items like mobiles, TVs, washing machines, ACs, different gadgets and cooking range.
Readymade garment traders also had their share of customers besides real estate sector which made the festive presence with offers and counter offers to take maximum advantage and obtain good business. The Sarafa market also registered good trading with jewellries especially gold, silver, diamond and platinum along with gold and silver coins, silver idols and utensils were in great demand among all section of the society. Traditional as well as fashionable light jewellries still have the fascination among customers. The traditional jewellery collections have the get-up of heavy varieties but is lighter with modern fancy touch. Talking to The Hitavada, State President of Chahattisgarh Chamber of Commerce (CCCI) and Senior National Vice President of CAIT Amar Parwani said that the five-day long Diwali festival which commenced from Friday, despite Model Code of Conduct in force began with great enthusiasm across the state. In this series of festivities starting from Dhanteras today, the festivals of Roopchaturdashi on November 11, Diwali on November 12, Govardhan Puja and Annakut on November 13 and Bhai Dooj on November 15 will be celebrated. He further informed that based on the rush and sales till late evening, bumper business was recorded in all segments in Raipur and across the state amidst auspicious Dhanteras shopping.
Sharing his views on sales, State President of Raipur Automobile Dealers Association Vivel Garg informed that automobile dealers have recorded 8100 vehicles consisting of 7000 two wheelers and 1100 four-wheelers. On being asked of tentative sales figures on Dhanteral, he said that the average cost of a two-wheeler is around Rs 70,000 while the average price of each four-wheeler is around Rs 10 lakh, which overall indicates of good volume of business in automobile sector in Raipur. President of Raipur Sarafa Association Suresh Bhansali said that the sarafa business 50 per cent more than the expected business this year in Dhanteras in Raipur. Though tentative figure of business is impossible, but the business is expected to have boosted by 25 per cent in comparison to last year sales on Dhanteras. He further said that the pre-booking orders are placed by clients three days ahead of Dhanteras and the delivery was made on this special day.