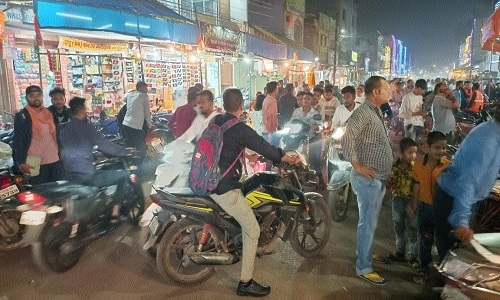 Staff Reporter
BHILAI,
Enthusiastic shoppers gearing up for Dhanteras and Diwali brought the twin cities of Bhilai and Durg to a standstill on Friday. Traffic cops struggled to control the overwhelming vehicular traffic, as chaos prevailed on the streets of the steel city, leaving commuters stranded for hours. The traffic moved at a snail's pace, particularly in areas like Circular Market, Gol Bazaar, Indira Market, Akashganga Market, Laxmi Market in Supela, Ganj Bazaar, Sector-6 'A Market, Zonal Market, CC Commercial Hub, and Jawahar Market.
The situation was particularly severe at Jawahar Market Power House, Akashganga, Supela, and Indira Market in Durg. Rajat Sharma, a resident of Hudco, expressed frustration, stating it took him half an hour to find parking at Akashganga Market. "I did not see single traffic personnel on duty while I was driving. This is absolute negligence on the part of the authorities, and some action should be taken," he said. Rajat was not alone in facing the motor queues on roads catering to the festive crowd, as residents across the city expressed discontent over inadequate traffic management.
Gunjan Verma, a working woman, shared her experience, stating, "It took me 25 minutes to cover less than a 400-meter stretch opposite the Railway Station at Power House to enter Jawahar Market." Shweta Singh, a housewife, added, "It took me more than an hour to drive back home to Sector-10 from Power House in the evening." The traffic snarls have raised concerns among residents about the need for better planning and coordination to ensure smoother traffic flow during the festive season.