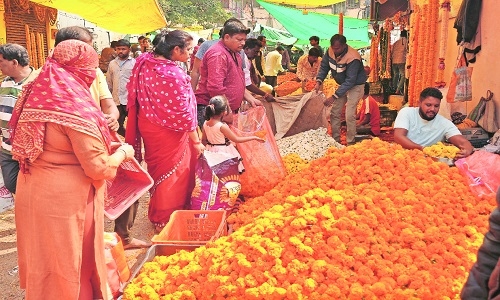 Business Reporter
Netaji Flower Market, Sitabuldi witnessed huge crowds and hectic buying activity for flowers by both traders and consumers during the three days of Diwali festival from Dhanteras (Friday) till Diwali (Sunday). "The overall situation was favourable for the both consumers and traders as the marigold flower prices were lower as compared to the previous season. Also, good supplies kept prices under check to meet the excess demand," said Jaywant Rannaware, President of Mahatma Fule Pushpa Utpadak Sangh while speaking to The Hitavada on Monday.
During the three days, from early morning till the afternoon the Netaji Flower Market saw large number of people visiting the market to buy flowers. The parking area was of full with vehicles and people had to park their vehicles outside the market. Usually, the flower prices increase multifold during the Diwali festival as there is huge demand, but this season the prices of marigold (puja flowers) were in the range of Rs 50 per kg to Rs 60 per kg. The most sought after flowers were Marigold, Desi Rose and Shewanti.
He said that the Marigold (Zendu) is being quoted at Rs 50 per kg to Rs 60 per kg, Marigold small at Rs 40 per kg to Rs 50 per kg, Desi Rose at Rs 300 per kg to Rs 400 per kg, Dutch Rose at Rs 150 per bundle (20 pieces), Gerbera at Rs 50 bundle (10 pieces), Carnation at Rs 150 to Rs 200 per bundle (20 pieces), Orchid at Rs 300 per bundle to Rs 400 per bundle (20 pieces),Chrysanthemums at Rs 300 per bundle (10 pieces) and Lillium at Rs 1,200 to Rs 1,400 per bundle (10 pieces) at the wholesale market. There were more than 150 trucks and small vehicles coming to the market daily, he added.