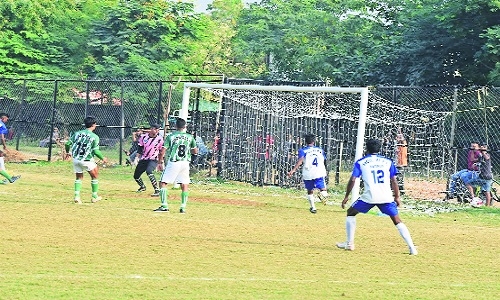 Sports Reporter
MOIL XI finally got their act right registering their first win of the season in the ongoing JSW Elite Division Football Tournament organised by Nagpur District Football Association at its Dr Ambedkar Football Stadium in Suyog Nagar, North Nagpur on Wednesday. Having lost three and a draw inn their previous four matches, MOIL tasted success in the fifth game recording a 2-0 verdict over Qidwai Sports Club. Both the goals were scored by Khemu Khatlam (16th, 67th) on either side of the half-time.
First was a solo effort by MOIL striker as he dodged past at least three rival players and then beat the keeper to give his team 1-0 lead. The score remained so till the lemon break. In their effort to find the equaliser, Qidwai came out with renewed vigour. Though it did not result in goal, three players, two from Qidwai — Javed Akhtar (48th), Faizan Ansari 49th and one from MOIL Amit Thakur (50th) were cautioned by the referee.
Seventeen minutes later, Khemu got a free ball at top of the D and his powerful kick made it 2-0 for the ultimate winners. In the added time, two players, one from each side were shown the red card. Thakur's second yellow of the game meant he was shown the door while Qidwai's Ziauddin was given the marching orders in the same minute with a direct red. MOIL's Sagar Kose and Hitesh Srote got away with cautions, all in the same minute (90+4) of play. On Thursday: South East Central Railway (HQ) vs Rahul Club at 2.30 pm.