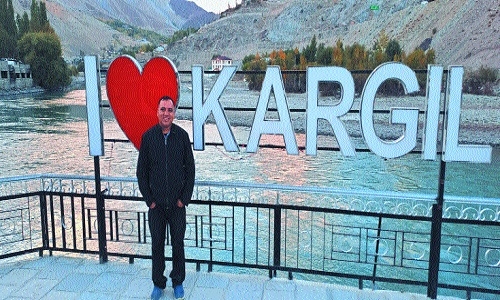 By Kartik Lokhande
AS HE sits on a chair in an open air restaurant, with river Suru flowing by, Prof Tsewang Gailtsen takes a look at the big letter display 'I Love Kargil'. He starts finding a similarity between the cool evening breeze and the winds of change sweeping Ladakh region in general and Kargil town in particular. Instantly, he says, "There is more to Kargil than war. It holds promise in terms of people and development." And, Prof Tsewang Gailtsen is right. Interacting with 'The Hitavada' at Kargil, this erudite teacher and author of books, shed light on history of Kargil and how the Government of India's move of granting status of Union Territory to Ladakh has ushered in a new era of development for the people. According to him, the name Kargil has evolved from 'Khar Rkil' meaning in the middle of castles (kingdoms). For, in ancient times, it was an important location on the Silk Route. Kargil is equidistant from Srinagar, Leh, Skardu, and Padum. People in Kargil are a mix of Dard and Tibetan descent. In ancient times, major part of Kargil was referred to as Purig. The people used to speak Purgi language, and were known as 'Purigpa' that is people of Purig. Mostly, they belong to Shia faith of Islam. But, the population also comprises Balti, Dard, Sheena, Zanskari, Buddhist, Sunni, Noorbakshi communities too. The racial stocks of Kargilis are Aryans, Dard, Tibetans, and Mongoloids.
In pre-1947 times, Skardu was the oldest tehsil of Ladakh, and Kargil was a part of it. In 1965, it was closely connected with Hundurman. In 1979, Kargil became a separate district. Since then, it started witnessing some changes. However, the real change came after 1999 war. "In pre-1999 era, the population of Kargil was around 5,000 only. But, the war changed a lot of things. Due to shelling and wartime troubles, people from Kaksar also shifted to Kargil. At present, the population of Kargil district is 1.25 lakh, with maximum 40000+ in Kargil town alone. Today, Kargil has become a tourist place and is buzzing with activity," says Prof Tsewang Gailtsen, who teaches Political Science at Government Model Degree College. He is National Service Scheme (NSS) Programme Officer too. During the war days in 1999, Tsewang Gailtsen was only 13 years old. That time, he lived in Garkone in Aryan Valley near Batalik. "Our village also faced shelling, but to my knowledge there was no casualty. The war had projected Kargil nationally and internationally too. I realised that the world was connected, and the children from the conflict areas also should get better exposure," he says.
Out of this concern, he has been trying to give more exposure to his students through literature, visits, and interaction with diverse people. He tells them that they should strive to gain knowledge as it was one wealth that no one else can steal from them. Since the Government of India granting the status of a Union Territory (UT) to Ladakh, Kargil also has been witnessing an increase in flow of tourists, generation of more employment opportunities, and a new pace to development of the region. Prof Tsewang Gailtsen agrees. "Earlier, in pre-UT era, development was more Kashmir-centric. Now, thanks to the UT status, Ladakh region also is witnessing fast-paced development. Several projects including Zanskar highway, Zojila project, Manali-Zanskar Shinkula tunnel are making good progress," he says. He lists increase in Ladakh Autonomous Hill Development Council's budget, apricots from Hardass village getting exported directly to Dubai from Leh without middlemen in Srinagar, improved road connectivity, new Government buildings, massive push to schools and healthcare as signs of change sweeping Ladakh region in general and Kargil in particular.
At the same time, he does not forget to make a mention of concern of locals. According to him, with massive development push and investment coming in from outside, locals are a bit apprehensive about the outsiders also coming in and settling in Kargil and Ladakh. Barring this, people are generally happy with the UT status, he stresses. Prof Tsewang Gailtsen is a representative of the Kargil residents, who are positive towards making collective progress, broadening the horizons of understanding, and having a worldview without getting detached from the roots. So, as he departs, with books in hand, he again takes a glance at Suru river flowing by. As he turns his head towards a group of youngsters in the tourist facilitation centre in Kargil, he finds a promise for a better future for the region. Because, as he says, younger generation will script a glorious story of development of Kargil, beyond its identity so closely associated with war. The conviction is palpable in his voice.